Werner Heeren, Regional Sales Director at Fluke Networks, discusses what differentiates them from their competitors, the impact of new technologies on the cabling market and its growth in the Middle East.
What is driving the growth in the cabling market in the Middle East? 
Although there are probably more, we see three main drivers supporting the uptake of CAT 6A solutions in the Middle East. There is a high demand for IoT, including CCTV security systems and related access control. Secondly, there is more and more wireless requirement, especially for the new WiFi 6. Thirdly, Cloud requirements fulfilled with data centre infrastructure deployments. We see a huge increase in cabling systems for intelligent buildings. There have been no significant advances in building technology for the last 50 years, up to now. Not so long ago, a typical office property supported very basic services like phone and electrical systems, HVAC, and an IT computer network – an average building of today is more digital and extremely complex. Subsystems like security cameras, lighting, advanced sensors, badging systems, etc. are siloed and difficult to manage. All these systems are more prone to failure and hacking. Buildings of today have a lot more needs than buildings of yesterday and need to be enhanced with connectivity. The question is how you bring it all together. That's why building networks convergence has become a necessity. For Fluke Networks, IoT brings new opportunities, as all these sensors and devices will require Power-over-Ethernet (PoE), hence improved quality norms, which in turn will require additional measurement standards and increased cabling quality. For example, CAT 6A cabling can better withstand temperature increase for higher PoE requirements compared to CAT 6 cabling. The second driver is wireless. Due to the exponential growth of mobile devices that are connected through wireless, there is a large demand for more wireless access points. Each Wireless Access Point (WAP), still needs a cable to be connected to the switch. On top, the higher data speed through wireless is requiring CAT 6A on the physical cabling level into the WAP. Thirdly, legal requirements of providing data through the cloud is supporting the expansion of local data centres. This means more infrastructure cabling to connect all these servers, storage, back-up servers, etc. This growth in data centres is not only driving growth in cabling in general, but also pushing the envelope for band-with requirements, meaning CAT 6A or even CAT 8 installations.
How do new technologies such as AI influence the cabling market and new solutions?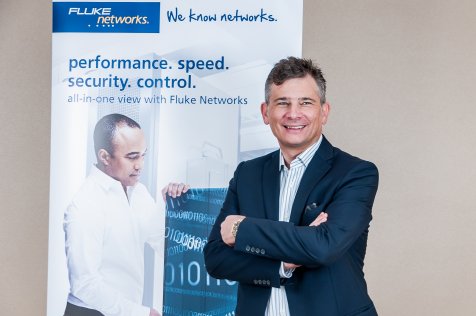 Artificial Intelligence makes it possible to provide better guidance for cable installers onsite when troubleshooting failing links. Once an installed Permanent Link is not meeting the standards, the clock starts ticking and a lot of time is wasted in ҅trial and error҆ when trying to rectify the problem. Should the installer change the whole cabling? Or change a connector? If so, which connector? Fluke Networks solutions will provide this guidance on what to do next to get the link passing the standards again. Due to our 25 years expertise in testing, we can recognise patterns in the frequency domain analysis as well as time-domain analysis and use proprietary digital signal processing techniques to detect connections. Older CableAnalyzers (or competitive testers) relied solely on differential mode analysis which was state of the art at that time, so you can expect the latest DSX CableAnalyzer to be more precise in its diagnostics, especially for Category 6A and Class EA links. Unique to the DSX CableAnalyzer is the ability to detect RJ45 connections in the link. If there is an RJ45 consolidation point, the FAULT INFO will give you the distance to that connection.
What differentiates Fluke Networks' offering in the Middle East cabling market?
Fluke Networks has been the trusted brand in the field of copper and fibre certification since 1992. Not only our customers will be instantly recognised as a "Pro", but our testers will enable them to become more competitive too whilst increasing their profit margin at the same time. The DTX CableAnalyzerTM, introduced in May 2004, was the world's most popular tool for certifying copper and fibre cabling installations until the new VersivTM Cabling Certification System was introduced. We believe now it's the perfect time to migrate to our next generation Versiv platform that supports all current copper and fibre certification standards as well as future cabling certification needs.
What is the biggest change you've seen in the cabling market due to digital transformation?
Digital Transformation will drive innovation accelerators in the region. IoT, AI, Blockchain, 3D printing, Virtual Reality, Robotics will all require more infrastructure to connect the devices which each other and with the required servers for processing. The largest change in cabling market due to digital transformation is the requirement to be online and to capture more data. More specifically, Fluke Networks has developed a cloud-based solution in their Versiv products called LinkWare Live to transfer test results from the testers in the field to the cloud. This process allows the technicians to share the results with the project managers, architects, and even consultants to monitor project progress, manage assets, and take an action on fixing problematic links without being on-site. LinkWare Live uses mobile phones or tablets to show this progress which accelerates access to information and cut down the certification testing time by 65 percent.