Tahawultech.com spoke to Sanjay Raghunath, Chairman and Managing Director at Centena Group, to understand how the UAE-based multinational conglomerate is driving innovation to transform people's lives.
Centena Group's mission is "Transforming People's Lives". Can you tell us more about this?
Digital transformation is all about using technology to solve global problems and making life easier for humankind. Often companies stress upon the technology side and don't focus enough on its impact on people. On the other hand, the Centena Group has always strived to evolve our business, keeping in mind that technology is here to facilitate human needs and make life hassle-free for our customers. We believe that the concept of transforming lives should begin within the organisation. We have been empowering our employees and grooming leaders within the Group to spearhead a digital transformation in all of our divisions. It gives us great pride that most of our homegrown leaders have been with us for over two decades. We are truly grateful for their commitment and dedication to strengthening the Centena brand.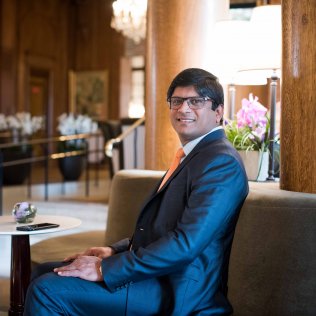 How is Screencheck, a Centena Group company, transforming human lives through technology?
ScreenCheck, a part of Centena Group, offers AI-backed solutions to improve efficiency and provide security using Biometrics and RFID. The company also distributes the world's leading brands in Identification, Biometrics, RFID, and Video Surveillance. ScreenCheck is the official distributor for Zebra, Evolis, Datacard, Bravo, Suprema, Impinj, and CMITech. As modern life becomes more hectic, people spend more time at the workplace, and this negatively affects their work-life balance. The entire gamut of solutions provided by ScreenCheck ensures that society is secure, business access is efficient, and work-life balance is achievable.
Do you think companies should invest more in innovation for the benefit of society?
The technological advance should primarily target the improvement of the human experience, and we believe that all companies should invest in innovation for society. Without the growth of society as a whole, all-round development is challenging to achieve. ATLAB, a Centena Group venture, is a perfect example of a company that is innovating for the benefit of society. ATLAB is at the forefront of pushing technology and works closely with schools, academic institutions, and other education bodies in encouraging students to develop skills related to STEM and STEAM, coding, artificial intelligence, and robotics. Our dedication towards innovation and keenness to enhance the knowledge of young people will have a positive effect on society for years to come.
What would you say is the importance of having core values that focus on building a sustainable company growth strategy?
We believe that it is not possible to build a sustainable company that does not adhere to its core values. Centena Group has been conceived as an enabler of human well-being, and we are consistently investing in technology and people up-gradation to keep up the momentum. An example in this regard is Emphor IAD, a Centena Group company that provides critical process and industrial automation solutions. The efforts of Emphor IAD to reduce manual activity and replace it with automation has reduced the risk to human lives in all high-risk areas.
How are you educating your employees to give back to society?
As the world progresses, we are all challenged continuously by environmental concerns and business pressures. Brands that educate their employees that the real purpose of life is to give back to society will always and consistently win in the long run. In recent years, pollution in the marine environment has become a critical issue with global repercussions. Maritronics, a Centena Group company, is at the forefront of all technologies that are evolving to help save the environment. We have an expert team in Maritronics who provide Ballast Water Treatment Systems and emission controls to help minimise pollution of the marine environment. Another Centena Group company, Life Analytical Sciences (Emphor LAS), is into quality testing of an entire chain of products from raw materials to finished products for consumption. Be it water, food, or plastic; we test everything that people use.
How are Centena Group's diverse investments making a difference in the world?
Centena Group has invested heavily in innovation and strategically chartering its way forward. The Group has a clear idea of what it wants to achieve through digital transformation and has assembled the right team to make it happen. Over time, the company, which has concerns in marine electronics, industrial automation, life & analytical sciences, identification & security, and educational training systems, has discovered that as a business grows, so does the complexity of its operations. Digital transformation is helping us to streamline operations and simplify the decision-making process. All of this is making us a more efficient and profoundly productive organisation. From marine engineering to bio- economies, 3D printing to artificial intelligence-driven access control, we are witnessing dramatic advances in science and technology that are pushing our exploratory limits. As humanity takes the lead to quantum computing, the Centena Group is at the forefront of all these technologies that have already begun to shape the future of humanity by allowing us to reimagine what is possible. With over three decades of business expertise, Centena Group of companies prides itself as a stable company and a front- runner in innovation, human capital development, and corporate governance, which has resulted in the Group being featured twice in Dubai's Top 100 SME companies.