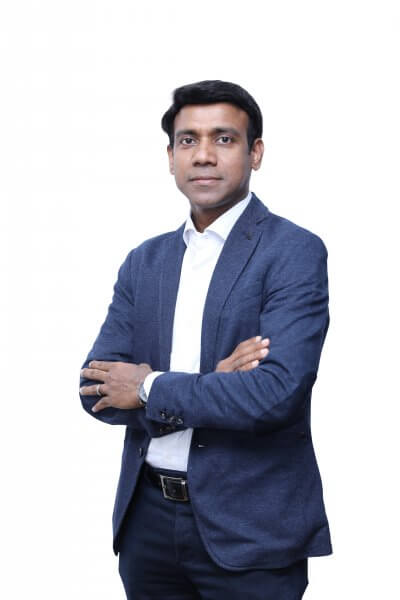 CNME Editor Mark Forker, spoke to Shaji Abdul Kadar, Chief Operating Officer at ScreenCheck, to find out how the innovative solutions provider and distribution company has maintained its status as a market incumbent, the complex security challenges around disruptive new technologies, and why the public shouldn't be fearful of RFID and Biometrics.
ScreenCheck , a division of Centena Group offers end-to-end solutions in Identification, Biometrics, Physical Security and RFID across 25 countries in the Middle East and Africa. However, in your opinion what differentiates ScreenCheck from its market competitors?
What makes us unique and different is our approach to the market. ScreenCheck, as a distributor has a team of dedicated sales professionals who are focused on specific regions. Part of the job remit requires them to travel across our market regions to meet with our channel partners face-to-face, to find out the challenges they face in market, educate them on our new products and solutions and assist them with additional training on sales and support.
They also reach out to our end customers and engage with them to inform them about our new cutting-edge innovations and products. Our solutions are designed and developed with our moto of "Innovate Today with the Vision of Tomorrow" Our domain knowledge and Project management skills ensure that we understand the customer requirement in depth then design and implement the solution with great care to ensure the customer satisfaction is the utmost.
We're not a company that just buys and sell products as a box, what we provide is tailor made solutions to the end customer through our channel partners.
Other key advantage we have over our competitors is our large warehouse located here in Dubai. The demands of our customers are always evolving and in the current climate you know if a customer orders something they want it the very next day. To meet our customer expectation, we have a very well maintained largest Inventory stock in the region.
Our Factory trained engineers and technical consultants ensure that the customers pick the right components for their solutions and they get dedicated help desk support for any difficulties they face in the field. Our experienced project managers assist our channel partners to make sure that each project is a success story for them and us.
The expertise of our highly-skilled workforce allows us to solidify our status as a leader in what is an ultra-competitive distribution market.
RFID, Biometrics and Video Surveillance have been met with widespread skepticism by some, who have expressed fears that the technologies will infringe upon their privacy. Are these concerns warranted, or is a lack education around these new technologies?
Its true that these technologies infringe upon our privacy, we have been tracked or monitored. Our areas of interest is being gathered and converted into database. But at the same time we need to understand that these technologies also helps us, protect or secure our identity. There are undoubtedly, pros and cons to these technologies when it comes to the security and privacy aspect of its application.
However, I do believe the technology has been created to improve the lives of people and to make cities safer places to live in. I do firmly believe that it is very important for us to educate people in terms of what data they share online.
We need to outline the precautions to them – and create a framework which clearly documents what sort of data they need to divulge when browsing online or while conversing on phone.
Hacking into a bank account isn't that difficult in the current climate as the sophistication of these attacks are on the rise. However, it's much harder to hack somebody's account if the only way to gain access is through biometrics.
It's obviously much more secure to use a fingerprint, facial recognition or iris scanning to access your personal details.  In the future, I envisage people going to an ATM machine to withdraw cash and using either a fingerprint, facial recognition or iris scan to access their account.
Do you think the emergence of these new disruptive technologies such as AI, Internet of Things and Big Data has enhanced the security framework and standards in the Middle East?
Technologies like Internet of Things (IoT), artificial intelligence (AI), and blockchain represent an unprecedented opportunity for the enterprise and the public sector. Every institution capable of exploiting these technologies will have a chance to radically streamline and enhance existing processes, create entirely new business models, and develop innovative products and services for a new generation of consumers.
The technology capabilities are available today to help you build the business of tomorrow. However, the issue of security surrounding these technologies is obviously a key concern for every organisation.
Companies are spending vast amounts of money on their data protection and security features. In the past, security wasn't high on the list of priorities for enterprises. They bought software and thought they were protected. However, that attitude no longer exists, not only because data is so valuable, but because the consequences of misusing data is severe.
In a multi-layered ecosystem, data security is complex and is a tough obstacle for enterprises to properly address. Every security framework should include device provisioning, data encryption, secured access control and various layers of IoT.
I think what is abundantly clear when you look at governments across the Middle East, is that they have recognized the increased level of security threats that have emerged as a direct result of digitization. However, in response to that they have proceeded to elevate the level of protection around their critical national information infrastructure and have developed some of the most robust cybersecurity policies in the entire world.