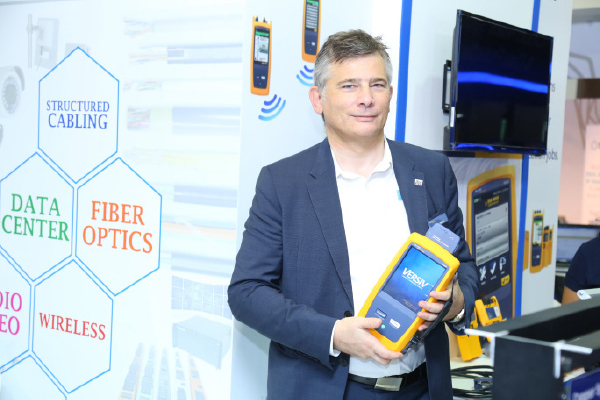 Fluke Networks is demonstrating its whole range of filed testers along with the latest cloud-based LinkWare Live solution.
Nowadays Software as a Service (SaaS), or the Cloud, affects many work processes. The field of measurement technology is no exception. Often cable testers are compared by the time it takes to test a single link, and they waste time when certifying newly installed copper and fibre based structured cabling systems with incorrect test limits and interpretation of OTDR traces.
"If we are able to prevent these instances the potential gain in efficiency and reduction of cost will be significant. A workflow which is supported by cloud and field testers that are able to communicate and exchange project details and test results has the biggest potential to lead to efficiency gains," says Werner Heeren, regional sales director at Fluke Networks.
He adds this enhanced work ow is possible because all involved team members can focus on work in their area of expertise. The project manager focuses on the test and quality plan, which involves test regimes, limits and standards as well as cable IDs and naming schemes. In the final stage, the SaaS will also assist the project manager in producing the necessary documentation which is often the last milestone before customer invoicing occurs. This leaves the technician to focus on what he was trained to do best test and troubleshoot.
Other products on display at Fluke's partner booths include CertiFiber Pro, which improves the efficiency of fibre cerfication with a 3 second, dual wavelength, dual fibre, test time. Fluke is also showcasing its OptiFibre Pro, which said to be the industry's first OTDR built from the ground up to meet the challenges of enterprise fibre infrastructures. This troubleshooting and certification tool combines uncomplicated power, efficiency and the exact functions needed for troubleshooting campus, data center and storage fibre networks.