Middle East, 14 March, 2021: Huawei, a leading global provider of information and communications technology (ICT) infrastructure and smart devices, through its Cloud and AI division, held its first training conference in Dubai on March 8-11, 2021. The conference highlighted and introduced Huawei's new Cloud Partner Network Program with the participation of 300 partners, introducing new capabilities that help bring them a better digital life.
Through this conference, Huawei Cloud aims to raise awareness on the key role in which Cloud plays, as well as sharing Huawei's global knowledge and expertise with Huawei's partners. As part of the company's commitment to collaboration and openness with its partners and customers, Huawei introduced the Huawei Cloud Partner Network Program in which it aims to welcome all partners to join and create service experiences by utilising Huawei's global capabilities. The program also aims to ultimately contribute towards achieving a digital economy and smart society of countries across the Middle East.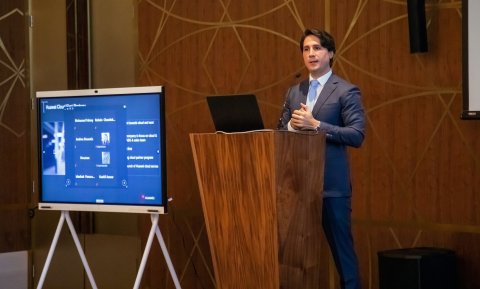 Omar Akar, Managing Director and VP of Cloud and AI Business Group, Huawei Middle East, said: "Building stronger computing power in the Middle East will require that the ICT industry deliver ubiquitous cloud and pervasive intelligence in the years ahead. At Huawei Cloud and AI, we are continuously working on providing our local customers and partners with various technologies and the necessary tools and skills to benefit from our extensive knowledge and expertise in order to grow together".
Akar added: "Our ultimate objective is to provide our technologies, preferential policies, and use Huawei's Cloud proven global practices to train and empower our local partners to innovate through this new program. In the future, Huawei Cloud will work effortlessly with partners to open the market and go global to strengthen their influence and success".
In 2020, Huawei launched its Cloud and AI Business Group in the Middle East Region to concentrate specifically on the most in-demand technologies in today's increasingly connected world. The Business Group strengthens Huawei's position as a partner of choice in enabling enterprises' digital transformation journeys, by offering focused products which enable cost reduction and increased business efficiency via modern infrastructure solutions. The BU portfolio also offers a next generation multi-cloud strategy to increase agility via the automation of service delivery.
According to recent research by Gartner, the global computing market is projected to be worth more than US$2 trillion by 2023. Huawei estimates that in the coming five years, AI computing alone will account for more than 80% of computing power used around the world.