Tahawultech.com and CNME Future Enterprise Awards 2019 celebrated and recognised accomplishments in the regional IT landscape.
The Future Enterprise Awards 2019, which took place at Jumeirah Emirates Towers in Dubai on October 6, saw hundreds of IT leaders coming together to celebrate and recognise individuals and organisations who are leaving a mark in the Middle East's digital sector.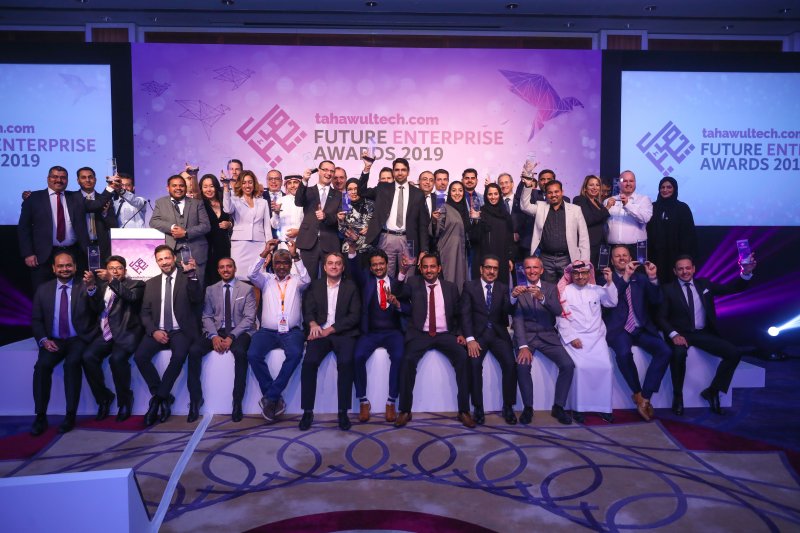 The awards honoured 38 organisations and IT leaders, and included awards for CIO of the Year, Innovation Vendor of the Year and Best Technology Implementation in end-user sectors such as government and retail.
Companies tend to become more innovative during tough times; they become more agile and flexible to stay ahead of the game and survive. And that makes the task of IT departments even more daunting – they need to help their businesses to become more innovative and help launch new services to the market ahead of competition.
The winners had to demonstrate not only that they were able to create new value using technology, but also that they did so in uncommon, innovative ways. Be it pioneering a new technology, applying an existing technology to a new purpose, or just setting the bar high.
The awards also recognised projects that, due to their scope and impact, are helping their organisations to a more profitable future.
Tahawultech.com and CNME congratulate this year's winners and applaud them for paving the way to the future of the IT industry in the region.
Here's the full list of this year's winners:
END USER CATEGORY
Best Technology Implementation in Banking
Abu Dhabi Commercial Bank
Best Technology Implementation in Financial Services
SAMA Watheeq Platform
Best Technology Implementation in E-Commerce
Fasttrack.aero
Best Technology Implementation in Healthcare
Prime Healthcare Group
Best Technology Implementation in Hospitality
Emaar Hospitality Group
Best Technology Implementation in Government
Road & Transport Authority (RTA)
Best Technology Implementation in Oil & Gas
Adyard Abu Dhabi
Best Technology Implementation in Logistics
DP World
Best Technology Implementation in Retail
Al-Futtaim
Best Technology Implementation in Education
Rashid Centre for the
Determined Ones
Best Technology Implementation in Manufacturing
GARMCO
Best Technology Implementation in Property
AZIZI Developments
VENDOR CATEGORY
AI Vendor of the Year
Dell Technologies
API Management Vendor of the Year
CA MENA
Cloud Vendor of the Year
Avaya
Digital Transformation Vendor of the Year
Injazat –
A Mubadala Company
Disruptive Technology Vendor of the year
HPE
End to End Digital Solutions Provider of the Year
GBM
Enterprise Data Management Vendor of the Year
Veritas
Enterprise Mobility Vendor of the Year
CloudHost Technology
Enterprise Security Vendor of the Year
Crowdstrike
EPM Solution Provider of the Year
MDSap
Green IT Vendor of the Year
2CRSi
Hardware Vendor of the Year
NetApp
Innovation Vendor of the Year
HPE
ICT Innovation Vendor of the Year
Huawei
Smart Cities Solution Provider of the Year
Injazat –
A Mubadala Company
Software Vendor of the Year
Veeam Software
Storage Vendor of the Year
Lenovo Data Centre Group
Systems Integrator of the Year
SBM
EDITOR'S CHOICE
| | |
| --- | --- |
| Editors Choice – Enterprise Vendor of the Year | Lenovo Data Centre Group |
| Editors Choice – Enterprise Collaboration Vendor Of the Year | BARCO |
| Editors Choice – Cybersecurity Consulting Service Provider of the Year | Security Matterz |
INDIVIDUAL AWARDS
Visionary Technology Leader of the Year
Mohammed Amin, Dell Technologies
Technology Personality Award
Aysha Al Meheeri, Injazat –
A Mubadala Company
Technology Rising Star of the Year
Khalid Shaikh, Prognica Labs
Future CIO of the Year
Fayaz Ahamed Badubhai,
Al Yousuf Group
CIO of the Year
Akshay Lamba, Deloitte