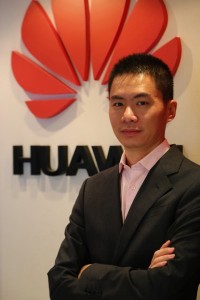 Following the announcement of plans to boost the UAE's fiber connectivity over the coming four years in partnership with Etisalat, CNME Online connects with Mr. Peng Xiongji, General Manager, Huawei UAE, on what Dubai residents can expect to see as a result of such investments in contributing to the Dubai Smart City Project.
Broadband access is recognised as a foundational element of any Smart City project. What initiatives are currently underway to increase this access for business and residents?
As urbanisation accelerates, information and communications technologies (ICTs) are playing a more significant role in improving public services and quality of people's lives. Today in Dubai, everywhere you look there are pioneering new services, ideas and technologies being implemented and discussed at conferences, forums and trade shows. Governments across the GCC are already ramping up their broadband infrastructure to meet the anticipated demands of residents for easy-to-use, secure and reliable digital applications.
Within the UAE today we can already see these projects happening. One of our latest collaborations with Etisalat will, for example, see an ultra-fast fiber network tested in the coming four years to deliver the speed and bandwidth required for seamless voice-over IP services, digital classrooms, telemedicine, and so on. We will also work with Etisalat for the first time in the region to develop 5th generation (5G) mobile broadband in the UAE; making it easier for the public to access Smart City services while on the go.
What 'smart' applications can individuals and businesses expect to see as a result?
The goal of a Smart City is to integrate all public agencies, systems and infrastructures into a holistic system. From ubiquitous ultra-fast broadband connectivity to ease of access to m-Government portals, unified hospital systems, and more efficient public transportation networks, there is a lot for businesses, residents and visitors to look forward to.
Just this month it was announced that residents of the UAE will soon be able to use a 'mobile wallet' thanks to a project from the UAE Banks Federation in alignment with the Smart Government initiative. Du has also announced plans to create wireless hotspots at a large number of prominent locations across the UAE.
Dubai in particular is a city that focuses on empowering citizens with the right tools to connect to the right information, increasing access to digital services and consequently fostering innovation and personal success by putting the citizen at the centre of Dubai Smart City initiatives.
Are current investments in UAE mostly focusing on mobile technologies, or is there a balance with traditional landline connections?
According to a report published recently by the World Bank, an investment of at least $25 billion is needed to fully develop fixed and wireless internet access in the Arab world. Convention would say that mobile broadband and fixed broadband are mutually exclusive. However, in an always-on world where users want to be able to continue streaming a video over their home Wi-Fi that they started watching on the metro ride home, makes these technological distinctions trivial.
The UAE has emerged as a truly global leader in developing synergies between mobile and fixed-line technologies, which will serve the nation well in realising its Smart Government vision. A significant part of Huawei's own commitment to the success of Dubai's Smart City project is sharing our "blueprint" for the future, which has been developed based on our global experience of building city-wide infrastructure for both fixed and mobile internet connectivity.
What kinds of organisations do you believe will ultimately be involved in the planning of Dubai's Smart City project?
Most of today's Smart City projects involve a mix of government bodies, developers, technology vendors, telecom operators, and consulting firms. However, the overall construction should always reflect the interests of the wider public, and I think this is where the Dubai government plays an essential role in translating the national vision into infrastructure policy.
What role will Huawei play in partnering with the government to realise this vision?
I join many others across the UAE who are excited by the benefits that the government's Smart City initiative will bring to those living in Dubai. As a professional within the technology sector, companies like Huawei have a responsibility to help make this vision a reality and are committed to doing just that.
Huawei has worked with governments across the region and around the world to deploy a vast range of Smart City solutions. To date, Huawei has been involved in network infrastructure development in more than 100 Smart City projects globally, with 12 national broadband projects and over 10 Smart Government and data centre development projects.
Whether driven by the government or other stakeholders, such projects share the same ultimate objective of efficiently serving the public with better access to services.