CNME Editor Mark Forker sat down with Huawei's Alaa Elshimy at GITEX Global, however, the pair didn't discuss the global ICT vendors portfolio of solutions and cutting-edge technologies, but instead focused on his new book entitled 'The Future is Here: IR4.0 – Business Transformation for Value Creation.'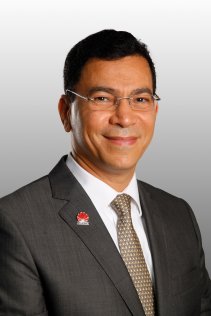 Alaa Elshimy is the Managing Director and Senior Vice President of Enterprise Business Group, Huawei Middle East, and is one of the most highly regarded and respected technology thought leaders in the IT ecosystem across the region.
He has used his substantial platform as a technology evangelist to compile a book that will serve as a template for C-Level executives to drive and deliver digital transformation.
He cited his bemusement and dismay at a report produced by McKinsey in which 74% of enterprises were not moving towards The Fourth Industrial Revolution and embracing new technologies because quite simply they didn't know how to get to where they needed to go.
"To be honest, what inspired me to write this book was a report compiled by McKinsey, who found that 74% of organisations were not transitioning towards Industry 4.0, simply because they did not have the know how to implement digital transformation across their business operations. Honestly, I felt a real responsibility to address this issue, and I began to research and look for literature and material on the subject, but I didn't find anything that could really help CXO's, or someone working within the industry to help their organisation transform, so I felt I needed to do something to correct that", said Elshimy.
Elshimy added that the world is transforming and called for stakeholders from across the global IT ecosystem to adopt a collaborative approach to really drive transformation across industry verticals, citing that collaboration is key in the new digital economy.
Having discovered what his inspiration was behind writing the book, I wanted to find out more about the book contents. Elshimy was unequivocal that his novel was not a technology book.
"The book is not a technology book, it is a business book, and it is written specifically with CXOs in mind. The book is divided into three main parts, the first of which examines and explains what Industry 4.0. is, because I believe that there is a lot of confusion and conflicting definitions of what the Fourth Industrial Revolution really is, so I have tried to the best of my ability to explain it all in the simplest and clearest way", said Elshimy.
Elshimy also used his book, which has been produced as a template, or strategic blueprint to enable business leaders to execute on their digital transformation goals to illustrate the key technologies fueling Industry 4.0.
"In my book I have highlighted how 5G, AI and Cloud are the main building blocks driving and fueling Industry 4.0. I have outlined and explained in detail what these technologies are bringing to the market, and I also provided some technical expertise and information to make it easy for everyone to understand and process it, and language is very important to be able to deliver the message that you want in an effective way", said Elshimy.
As he stated earlier in the interview, Elshimy has positioned his book as a 'business' one, and he cites success stories in terms of digital transformation in key industry verticals such as transportation, banking and utilities. He stressed that he wants his book to be a source of inspiration for those seeking to implement change.
"I have illustrated case studies in the book which clearly demonstrate success stories when it comes to digital transformation, and in the utility chapter I document the successful transformation of DEWA. We also highlight other industry verticals such as banking, transportation, and government. Ultimately, I wanted to share different success stories from a range of different global sectors with customers to give them the confidence and a blueprint to follow in terms of how others did it, so they can replicate the digital transformation process for their own organisations", said Elshimy.
He concluded the interview by stressing that his primary objective for 'The Future is Here' is that it serves as a guide to empower and enable others to achieve digital transformation on the scale they need to in order to thrive and survive in the digital economy.
"It is a guide for digital transformation and the primary objective for me was to ensure that the book was not overly technical. I wanted it to be written in a language that every CXO understands and can relate to and resonate with, and essentially the end goal of that is to create value to their business. If want CXOs to be able to leverage the information in the book to generate new value for their businesses", said Elshimy.