Marco Fanizzi, VP and GM – EMEA at Commvault, believes there has been a mindset shift in terms of the way enterprises view cloud technologies since the onset of the global pandemic – and explained how they are leveraging their expertise to help their customers protect their data amidst the backdrop of an increase in cyberattacks.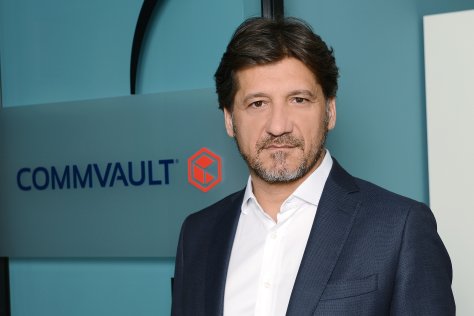 The rate in which data is being generated is growing exponentially year-on-year, but what has added further complexity to that in terms of managing and protecting that data, is the fact that due to the COVID-19 pandemic more data is being generated outside the compounds of corporate IT networks as employees work remotely.
According to Fanizzi this has inevitably created an environment in which opportunistic cyberhackers can attempt to hack systems and carry out ransomware attacks on a large scale, and that is something that they have seen a huge increase in across the global IT ecosystem.
"There is no doubt it we are living in a data era, and increasingly we are hearing more and more about data monetisation. However, the onset of the pandemic accelerated this concept, but also companies were forced to move their workforce into a remote environment, which inevitably meant that the data followed them home. We have witnessed globally an exponential increase in ransomware attacks and the hackers have identified an opportunity through the vulnerabilities presented by employees working remotely. They are using remote workers to gain access into the data centres to encrypt the data", said Fanizzi.
However, Fanizzi believes that this seismic shift in the way we work has prompted enterprises to reimagine they way they view the cloud and now see it as a new way to run their day-to-day business as opposed to being somewhere they stored their data, citing that the traditional method of storage was now archaic and outdated.
"I believe that these factors have forced enterprises to think about cloud as an operating model, and not simply where the data resides. This multi-cloud approach is very attractive to all our customers because quite simply the cost to maintain data in a traditional environment is no longer affordable", said Fanizzi.
Commvault is a global leader when it comes to data management and backup solutions, and they have been leveraged their expertise and knowledge to help their customers cope and overcome the challenges they have faced over the last 18 months.
Fanizzi stressed the importance of equipping their customers with the ability to scale in a cost-effective manner – and added that they were investing aggressively in new technologies to enable to continue to serve their customers and give them the tools they need to thrive and survive in the digital economy.
"Customers need to have the capabilities to scale their data in a standard way, whilst maintaining the cost. However, it's been well documented by now that data is the new oil and hackers are attacking this because they know every business greatest asset is their data. From a Commvault perspective our focus is on maintaining our ability to follow our customers trends, and we are constantly investing in new and disruptive technologies to enhance the services we provide. We believe it is critical to invest in people and knowledge to stay relevant and be able to deliver the experiences that our customers expect from us", said Fanizzi.
The interview with the charismatic figurehead of Commvault's Middle East operations was conducted onsite at GITEX Global 2021, the flagship IT conference in the region.
Fanizzi said he was enthused by being back at GITEX – and pointed out that due to added challenge now associated with travelling, those that were at GITEX Global truly wanted to be there, whereas in the past, many attended such events because they simply had to.
"It is fantastic to be back, and this region is so exciting in terms of the growth prospects here and the opportunities that exist. GITEX has always been a phenomenal show, but I think there was a renewed sense of just how important it really was following the pandemic, which obviously resulted in a much more condensed version of the conference in 2020, with many companies unable to travel. Two years ago, these events were taken as a given, now people are acutely aware that time is important and if they have to fly then they need to protect themselves, so if they are here it means they really want to be here", concluded Fanizzi.