CNME Editor Mark Forker spoke to
Taha Khalifa, Client Computing Group Sales Director, EMEA Territory at Intel Corporation, to learn more about the new direction the company is headed under the leadership of incumbent CEO Pat Gelsinger – and how the decision by the tech behemoth to launch five process nodes over the next few years is going to be a 'gamechanger' when it comes to performance.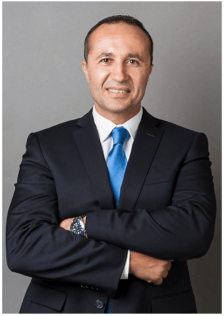 Taha Khalifa has enjoyed a decorated and distinguished professional career with Intel, one which has spanned over 20 years.
He has seen the company evolve and take on many different forms during that time, but one aspect that remained a constant was that innovation has always been in Intel's DNA.
In a candid and forthright conversation with CNME, Khalifa expressed his excitement at the future direction the tech leader is headed under the new tutelage of CEO Pat Gelsinger.
Earlier this year, Intel conducted a meeting with their investors, and Gelsinger laid bare his plans for the company for the next few years – and that's the place where we kickstarted our conversation.
Khalifa believes the vision set out by Gelsinger will enable Intel to become the innovation market leader – and highlighted that their decision to launch five process nodes in four years represents a 'company first'.
"Our new CEO Pat Gelsinger joined the company just over 12 months ago, and he launched a 'Torrid Pace' innovation and execution model. We are moving at a very fast pace in terms of our innovation, to the extent that we are launching five process nodes in four years. We are starting with Intel 7 in 2021, and this year we plan to introduce Intel 4, followed by Intel 3 in 2023. In 2024, we will enter the Angstrom era, which essentially means we will move from Nanometer to Angstrom, and we will be introducing 20A and 18A. The decision to launch five process nodes in four years is something that Intel has never done before, and it's a very ambitious plan. However, we firmly believe it will put us in a very strong leadership position", said Khalifa.
In addition to this, Khalifa noted the launch of Intel's IDM 2.0, highlighting how that will greatly enhance its manufacturing capacity.
"We also launched Intel IDM 2.0 at the beginning of the year, and that will ultimately allow us to increase our manufacturing capacity – and ensures that we capitalise on that by opening it as a foundry service for other technology providers. In addition to this, at the same time, we can selectively choose to use some of the foundries for our own products", said Khalifa.
The conversation then moved away from the process and packaging technologies that are being launched by Intel, towards their PC and desktop product offerings.
Khalifa said its new Alder Lake offering was equipping Intel with a leadership product that was transformative in terms of 'performance'.
"We launched Alder Lake H series in Notebooks in January 2022, and for the first time at Intel it introduces hybrid architectures. We have efficient and performance cores, which gives us up to 16 cores, and 24 threads, which is quite significant in terms of performance in a leadership product, and from a desktop perspective it is without doubt the best desktop, gaming, and CPU out there with significant performance leadership over our competition. From a mobile standpoint it is also the fastest mobile CPU from that aspect on the market", said Khalifa.
The Intel Director also outlined how Intel have formulated a roadmap for innovation across the next few years.
"At the end of 2022, we intend on launching Raptor Lake, which is expected to increase performance year-on-year- and will optimise Alder Lake to create a more high-performance product in Raptor Lake. In 2023, we are introducing a new concept entitled 'Disggregated Architecture', which means instead of having all the CPU on one package, we are launching the concept of 'Tiles'. This allows you to modularise the architecture to have a graphic tile, CPU tile, or a core tile, which gives you the ability to use multiple process technologies in each one of these tiles. The other is to use the best IP and process technology available on the market to bring products to market at a faster pace", said Khalifa.
Khalifa also added that under the new direction of Intel, CEO Pat Gelsinger has adopted brings back an accelerated version of the old Tick-tock operating model.
"Meteor Lake is going to be a truly innovative product and will bring both the hybrid architecture and disaggregated architecture to offer very solid optimisation in terms of efficiency. We are also bringing back an accelerated version of the Tick-tock model we used to have in the past to give us the leadership in architecture and process technology, and we are very excited about that", said Khalifa.
Khalifa revealed that Intel bases its new innovations on a range of factors that include the key trends it sees emerging in the IT ecosystem, comprehensive research and most importantly engagements with its customers.
"We examine what we believe will be some of the long-term key trends in the IT ecosystem over the next 3-5 years and embark upon strategic planning based on what we see. This inevitably helps us to design solutions and better understand the product and framework to meet the demands of the market. We also conduct our own surveys and research. However, we also engage in a lot of customer interactions to learn how their products are being used, and ultimately how we can optimise that", said Khalifa.
The Intel executive then highlighted how the global COVID-19 pandemic showed them the importance of collaboration.
"Collaboration with our ecosystem is critical for our innovation, and our core engineering efforts with our OEMs and partners are also very important. During the COVID-19 pandemic we realised how important collaboration was in terms of the way we work, live, learn, collaborate, and communicate through our PC. We optimised our features to eliminate things like background noise, added more clarity to the image and integrated a lot of AI features that will help our collaboration be optimised", said Khalifa.
He then heralded the impact its range of Intel Evo products has had on enhancing their communication and collaboration capabilities.
"We launched our Evo products a few years ago, and we have sold over 10 million units. This year we have 100 new designs of Evo coming to the market. It is an amazing product that is the result of engagement with our customers and focus groups to determine what people both want and need when it comes to the PC. We have worked very closely with our partners to co-develop and co-design this platform. It has many features such as a minimum of 9 hours of battery life, you can charge up to 4 hours in less than 30 minutes. In summary, we are fully committing to the industry that this is a long-term vision, and we have also introduced intelligent collaboration which again only serves to further enhance our product offering", said Khalifa.
Intel, like so many other global vendors rely heavily on its channel ecosystem to elevate, promote, and proposition its product and solutions to the market.
Khalifa reiterated that Intel was fully committed to the channel – and disclosed how they are providing opportunities for their channel partners to become more innovative.
"One of our key focus areas is how we can continue to grow our channel partnerships. The channel has always been an area in which our customers have demonstrated their innovation and agility. Our channel partners have an intrinsic understanding of the market, and they know their customers very well. We provide them with tools to make them successful and more productive. We also introduced things like the NUC element in the channel as this provides them with the opportunity to differentiate and create products through their customers. The NUC is a small form factor of the PC that is highly integrated and gives the channel an opportunity to add more components to it in a bid to make it more competitive. We believe in harnessing the power of the channel and our approach to shows that we are fully committed to the channel", said Khalifa.