Tayfun Topkoc,
Regional Director of SAS Middle East, Turkey, and Africa has written an exclusive op-ed for May's edition of CNME, in which he outlines the importance of building and retaining a corporate culture in our new 'work from anywhere' world.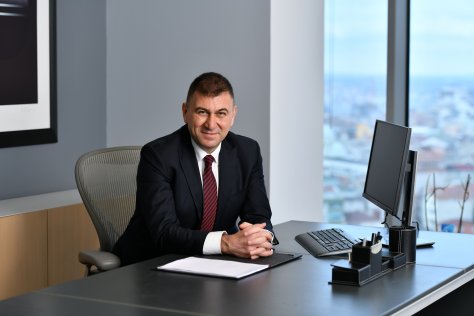 As we are eventually getting closer to the end of the pandemic, the discussion about the future of work is more relevant than ever. The work environment will be even more flexible, remote and employees already have new expectations in terms of work experience.
Our commitments to employees, communities and environment have allowed us to advance with innovation. This holistic approach to corporate culture keeps SAS ranked among the best workplaces worldwide. In UAE, we are committed to contribute to the country's future. By following closely on its vision, with innovative solutions, advanced analytics, and AI, we can contribute to building sustainable future and balanced development for UAE's citizens.
The challenge organisations are facing now is that retaining or reinforcing work culture in a work from anywhere in the world is not a simple task. Companies have to minimise the risks involved in a remote work environment, such as employee fatigue and decreased job satisfaction. Establishing a work experience that boosts productivity should be a priority, but not through the standard business practices of old.
Performance-related benefits are no longer enough. The development of a human-centred, hybrid working model that is based on collaboration is of higher importance and as organisations become more "regionalised" it is getting extremely important.
There is also a growing importance of sustainability of an AI practice. The Great Resignation phenomenon and the rise of new, advanced technologies made the markets hungry for the generation of new, advanced skills workers. Organisations are struggling with both finding and retaining the right talents.
To bridge that gap, it is necessary to scale up education. Coming from the University environment and having strong academic roots, SAS has decades of experience in helping people around the world skill up to take advantage of the analytics economy.
Understanding the value of data starts by teaching the basics, including helping students rethink their approach to problem solving. We have partnered with colleges and universities globally to develop more than 400 joint programs in analytics and related disciplines through the SAS Academic Specialisation programs.
In UAE, we are strongly supporting the vision of ensuring excellent quality of education. We have postgraduate and graduate programs at Amity University, University of Fujairah, Middlesex University, and the University of Wollongong in Dubai, and we are working on expanding even further our education footprint. These partnerships enable us to start closing an existing skill gap and create talent in areas of in Data Sciece, AI and Advanced Analytics, necessary to advance the country toward its vision of knowledge economy.
Retaining talent is another matter altogether. With flexibility being taken for granted and not considered a perk anymore, organisations must consider investing into the improvement of employees' work office environment, care for their mental health, and provide them ways to advance their careers.
We see that generations entering workforce are highly invested into contributing to a better, more sustainable world. They expect companies to do the same.
As companies are now assessing their sustainability agendas, we see a lot of steps into the right direction. And it's not only because of the legislation and impact of climate change to business, it's also expectations from the workforce that will have big impact on their sustainability efforts.
We are very proud of the efforts and dedication we have at SAS on achieving net zero carbon-emissions, and I truly believe analytics has the power to accomplish remarkable results in ensuring sustainable future while ensuring development of businesses and society.
Meantime, the rise of the metaverse could further reshape the world of work shortly. Building upon the need for better team collaboration, it's highly possible that work meetings will soon move to the metaverse.
Though, we're not just talking about the evolution video conferencing here. Metaverse has the power to eliminate miscommunication across teams, with team members sharing the same virtual office from anywhere in the world. You could even host virtual office events to encourage the team spirit.
Metaverse can also be a capable remote training tool, revolutionise customer support, and much more that we haven't even thought of yet.
At SAS, we've always been guided by our culture of trust and flexibility. We trust employees to do the job they were hired to do and inspire them to be results-driven while taking into account their well-being.  All told, you shouldn't let today's dynamic and fast-changing workplace environment overwhelm you. By embracing innovation, we can move forward in confidence.