By Reem Asaad, Vice President of Cisco Middle East and Africa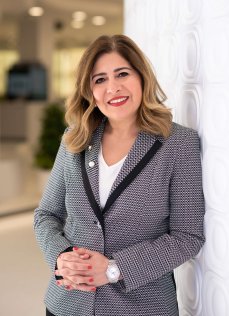 As more citizens relocate to cities with hopes of better access to education, careers and economic prosperity, urban infrastructure and the environment are coming under increasing strain. Demand for public services and consumption are on the increase and smart, yet sustainable cities are now a critical endeavour for all.
To create, maintain and evolve a connected and environmentally aware city, the network infrastructure is foundational. Unlimited connectivity that securely transports data makes all other life enhancing innovations within our cities possible.   Technologies such as Wi-Fi 6, 5G, AI and the cloud are all based on effective network connectivity. Our communities of the future must be in harmony with the environment and offer increasingly efficient daily lives for people; green and digital go hand in hand.
For each city to successfully get smart, networks must be scaled and optimised – delivering low latency connectivity for decisionmakers to gain actionable insights. The use of IoT devices and connections can enable a city to receive real-time updates on air quality, traffic flow and waste management.
Leaders of technology have a responsibility to be a driver of this change, both within our internal operations, by enabling our customers and partners to meet their sustainability goals with our products and innovation solutions and in the way we collaborate and influence broader communities to take positive action.
When the world united for COP26, digital technologies proved to be a fundamental lifeline. Cisco's collaboration platform, Webex enabled crucial conversations between delegates both virtually and in person on issues that define the future of our planet.
Today, whether we consider our schools, hospitals or workplaces, we are witnessing a shift to hybrid environments, where technology is the key accelerator. While such environments offer a greater degree of convenience, they also have financial and sustainable benefits. Virtual meetings offer the ability to replace the day-to-day commute and business travel. Smart building management systems provide insight into the consumption of energy and work to improve efficiencies.
Focusing on the UAE, Expo 2020 Dubai serves as a shining example of how a city can leverage the best of technology to operate in a smart and sustainable manner. As the Official Digital Network Partner of Expo 2020 Dubai, Cisco has established the secure intelligent foundation for connectivity with our intent-based network. This technology constantly learns, adapts and protects to keep the mega project running.
The network works with a number of other solutions located at the site, including Cisco's Wi-Fi technology to deliver ultra-fast yet secure connectivity to all who enter and operate the site. In the first 25 days of Expo 2020 Dubai opening its doors, over 606,200 users connected to the Wi-Fi network. On the 8th of October alone, there were over 50,000 peak users – illustrating just how important reliable connectivity is.
Beyond connecting people and increasing operational efficiencies, Cisco's network is also helping to reduce food surplus at Expo 2020's restaurants, food halls and workforce catering areas – distributed to local charities with the logistical support of the UAE Food Bank throughout the duration of the event.
As the first of its kind in the UAE, the Expo 2020 Dubai Food Rescue Programme utilises Replate, a Cisco grantee, and state-of-the-art technology, to automate the food rescue process and connect donors to charities and communities in need. Furthermore, it tracks the environmental impact of all donations. Replate is also used to alert the UAE Food Bank about pick-ups at the Expo site and enables UAE Food Bank drivers to distribute food to those in need with greater ease.
With the UAE now set to host COP28 in 2023 and a number of landmark projects underway with sustainability and technology at their core, the nation will continue to set the benchmark for smart green cities – inspiring others to act for the good of the environment.