Gone are the days where we actually have to touch our phones' screen to get things done. We now live in an era where we can control our smartphones with simple air-gestures. The HUAWEI Mate 40 Pro embodies these innovative and intelligent interactions in a powerful and futuristic smartphone that allows users to effortlessly do more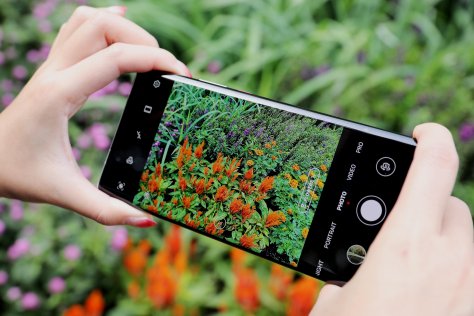 The latest iteration from the flagship HUAWEI Mate Series comes with EMUI 11, which is packed with an all-new user experience. The Smart Gesture Controls, for example, give users of the HUAWEI Mate 40 Pro a whole host of new and fun features to interact with on their phones.
Hover to wake: With Smart Gesture Control, you can wake up your phone by hovering an open palm above the screen. When it is used in tandem with 3D Face Unlock, you can unlock the device without touching the handset.
Wave to swipe: wave vertically and horizontally to scroll the screen and go forward or backward. This feature now also works with various eBook, photo gallery, music and news apps.
Press to answer calls: answer incoming calls with a simple pressing gesture – perfect for when your hands are dirty or occupied.
Other gesture control options: Smart Gesture Control adds new support for audio and video playback control. When the HUAWEI Mate 40 Pro is playing music, a pressing gesture will pause the audio.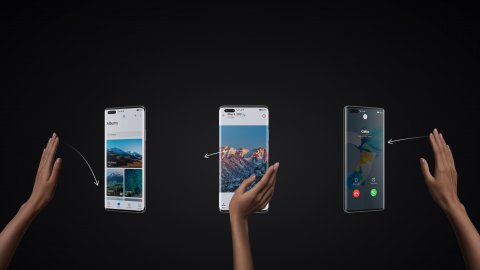 With the HUAWEI Mate 40 Pro, multitasking has been taken to a whole new level, thanks to the improved Multi-Screen Collaboration feature. Multi-screen Collaboration fundamentally transforms how work can be done. Virtual meetings are now more like a face-to-face discussion. You can use your smartphone as a digital notepad to jot down notes for creative inspiration. In addition, when you need to present content on your phone screen to others, all it takes is just one tap to initiate screen projection. Other improvements to Multi-screen Collaboration bring your smartphone even closer to your PC. Multi-tasking is now better, with support for up to three concurrent active apps, so you do not have to flip between screens to access different apps. HUAWEI Notepad on the HUAWEI Mate 40 Pro can recognise handwritten notes and convert scribbles into machine-encoded text, allowing you to easily insert it into a Word document or share with others, such as HUAWEI MateBook.
The HUAWEI Mate 40 Pro delivers the ultimate in 5G performance through the power of Huawei's top of the line HUAWEI Kirin 9000 5G chipset. The flagship also comes with a futuristic Space Ring design, stellar videography, fast HUAWEI SuperCharge solutions and a long-lasting battery in addition to solid privacy and security features. The HUAWEI Mate 40 Pro is pre-installed with HUAWEI AppGallery, Huawei's official app store with a constantly growing list of apps, where you can simply browse and download the apps you need. Huawei has also unveiled new apps available for global Huawei users, including Petal Search, a search engine that is your gateway to a million apps.