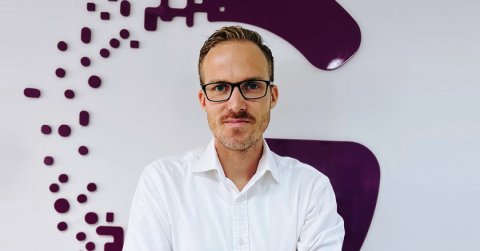 By: Martin Mazur, Data & Analytics Practice Lead @GELLIFY
Data has emerged as a crucial resource for businesses of all kinds, including those in the Middle East, in the current digital era. Data's worth is only increasing as society gets more data-driven, and companies that don't make use of it run the risk of slipping behind their rivals. Organisations must create clear data strategies that are adapted to their own business objectives and cultural setting in order to realise the full value of data.
The Middle East is one of the regions with the fastest-growing data generation and consumption rates, according to current statistics. The volume of data has significantly increased as a result of the development (or adoption) of digital technologies and the widespread use of mobile devices. According to a recent analysis by Cisco, the data traffic in the Middle East and Africa region is expected to increase between 2020 and 2025 at a compound annual growth rate of 41%. The region would produce 9.8 exabytes of data per day by 2025, up from 2.3 exabytes in 2020, according to the analysis.
The importance of enterprises in the Middle East adopting clear data strategies is highlighted by the enormous development of data, but before proceeding to the steps of creating one, there are a number of considerations involved due to the specificity of the demographics, where data strategy can be a slippery slope without these considerations.
Cultural context is an important factor to take into account while creating a data strategy. The region has a strong cultural heritage, which has an impact on how people use technology and interact with data. It is important to consider the local culture and values when gathering, managing, and analysing data. For instance, firms must make sure that their data strategies adhere to regional laws and cultural norms because privacy and security issues are very important in the Middle East.
Implementing a data strategy also calls for a shift in organisational thinking and entrepreneurial culture. In 2022, a study uncovered an astounding statistic: 91.9% of respondents believed that people and culture are the biggest blockers of data-driven change. Workers need to be educated on the importance of data and how to use it to propel company expansion. Data must be viewed as a strategic asset that can drive innovation, better business processes, and improve customer experience. This culture of data-driven decision-making must be promoted.
Finally, the lack of trained talent in the data science industry is another issue Middle Eastern businesses must deal with. Only 23% of Middle Eastern organisations have data science capabilities. This presents a huge challenge for businesses looking to create and apply data strategy. In order to address this issue, enterprises must either spend money on internal talent development and training or look for collaborations with data science companies on the outside.
While creating a data strategy might be challenging, it is crucial for Middle Eastern businesses looking to expand and remain competitive. A data strategy is a road map for how a company will gather, manage, and use data to accomplish its objectives. It must be compatible with the values, cultural, technological, financial, and legal aspects of the organisation. A successful data strategy must also be a dynamic that changes along with the business and acts as a GPS navigator towards organisations' data transformation journey.
In light of this, there is a need for Middle Eastern companies to develop and implement clear data strategies that align with their business goals and values. Creating a clear data strategy with all considerations listed may seem like a daunting task, but it can be broken down into three simple steps: assessment, target, and roadmap.
Step 1: Assessment Stage
The assessment stage is the first and crucial step of developing a data strategy as it provides a comprehensive understanding of how the organisation currently operates. It is essential to examine how technology is being utilised, how data is delivered to end-users, and how data is documented to generate insights. Consulting companies need to spend time and hold meetings with members at all levels of the organisation to gather this information accurately. The assessment stage typically takes up around 50-60% of the total time required to create a data strategy. Different consulting companies have their own methods of assessing current data capabilities. At GELLIFY, for example, we take a customised approach to each organisation, tailoring our framework to suit their specific needs and goals. This allows the customer to get a comprehensive understanding of their data landscape, including any gaps or areas for improvement. By understanding an organisation's unique challenges and goals, we provide them with a data strategy that is tailored to their needs and helps them achieve their objectives.
Step 2: Target Stage
Once you have assessed your organisation's current data capabilities, the next step is to identify your target data capabilities. Statistically 70% of executives are concerned that the organisation does not allocate sufficient capabilities and resources to reach the goals. To ensure success, defining your organisation's data-related goals and determining what capabilities are needed to achieve those goals is a crucial step. During this stage, it is also important to take an agile approach and focus on quick wins. This means identifying areas where small improvements can be made quickly and focusing on those first, rather than what the majority of organisations do – focusing on a big-bang approach.
Step 3: Roadmap Stage
The final stage is where a lot of data strategies collapse. Organisations want 3 or 5-year roadmaps, whereas, in our opinion, roadmaps should be for 6 months to a year, and reviewed frequently. The reason for this stems from our experiences with clients: trying to create a roadmap and set costs for a long-term roadmap is unreliable due to the rapidly evolving field of data. There's a high likelihood that soon, a better and/or cheaper technological solution becomes available, rendering your long-term roadmap obsolete. It becomes important to monitor the strategy at shorter periods rather than reviewing it at the end of the long roadmap. Another aspect is that a longer roadmap requires more resource commitment, which can scare clients.
In conclusion, data is a critical asset for organisations in the Middle East, and developing clear data strategies is essential for fully leveraging its value. However, having a data strategy is just the first step: having the recipe and buying the ingredients doesn't mean the final product is ready, but there's still a long road ahead. A good data strategy will act as the GPS for you as your organisation navigates the journey toward its data transformation journey of staying competitive in the digital age.
References:
Data Strategy: The GPS Navigator for Your Organisation's Data-Driven Transformation. Retrieved from: https://www.gellify.com/data-strategy/
"Big data market in the Middle East and Africa to reach $12.4bn by 2022." (2018, November 1). Arabian Business. Retrieved from https://www.arabianbusiness.com/technology/407356-big-data-market-in-the-middle-east-africa-to-reach-124bn-by-2022
"The State of Data Analytics in the Middle East." (2020, May 20). ArabNet. Retrieved from https://www.arabnet.me/english/editorials/entrepreneurship/the-state-of-data-analytics-in-the-middle-east
"Data analytics adoption in the Middle East is on the rise: survey." (2019, July 22). Tahawul Tech. Retrieved from https://www.tahawultech.com/industry/technology/data-analytics-adoption-in-the-middle-east-is-on-the-rise-survey/
"Data & Analytics Market in the Middle East & Africa (MEA) – Growth, Trends, and Forecasts (2020 – 2025)." (2020, April 22). Globe Newswire. Retrieved from https://www.globenewswire.com/news-release/2020/04/22/2020035/0/en/Data-Analytics-Market-in-the-Middle-East-Africa-MEA-Growth-Trends-and-Forecasts-2020-2025.html