CNME Editor Mark Forker spoke to Zeid Abu Ennab, Senior Director of nGage SaaS at Lyve, to find out how the innovative software company has transformed the logistics industry with its last-mile delivery ecosystem, the reasoning behind its decision to rebrand – and what differentiates Lyve from its market competitors.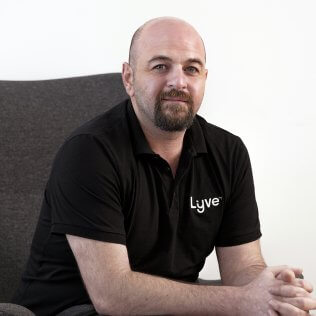 We all know that in this digital economy, a key component in the success of any company that relies on an application to deliver its services is the 'experiences' that it can deliver. How are you leveraging your nGage by Lyve solution to empower companies to deliver their products more effectively and efficiently?
We have created the nGage by Lyve to alleviate the complexity and resource-intensity of the last-mile phase. The software was designed to give clients control over all delivery-related matters by centralising them and streamlining the flow – so clients can provide a speedier and more accurate service while maximising resources through multiple features.
Businesses thus end up cutting costs on operations and increasing customer satisfaction. A few of the software's features include:
Automated dispatching of orders:
The software assigns orders automatically to drivers through smart algorithms that consider drivers' proximity from pick up locations, capacity, workload, ETA, vehicle type, payment type, employment type, driver rating, SLAs, distribution models and other criteria.
Dynamic route planning and optimisation:
Provides drivers with the best optimised route, calculated based on SLAs, drivers' capacity, ETA, traffic conditions, and other criteria. It allows clients to access the expected time of arrival of each driver at each location. The software's algorithms cater for different delivery models including multiple pickups and multiple drop-offs.
Drivers pooling and order clubbing:
Optimises fleet utilisation by sharing a pool of drivers amongst multiple stores within the same area and assigns multiple orders from one or more brands to the same driver. Both the pooling and clubbing features are powered by the software's route optimisation algorithms to ensure on-time deliveries and compliances to SLAs.
Real-time tracking:
Enables clients' operations team to know where drivers are with the help of a map interface. Clients can track order journey with time stamps from the moment an order was created until it was delivered to the customers' doorstep.
Customer engagement:
Minimises follow-up calls to the client's call centre by keeping customers updated with their delivery status. The system can be customised to update customers' at any stage of the order journey, using automated SMS notifications. Customers are provided with tracking links to a real-time map with the rider's location. Customers can also update their delivery locations, communicate directly with drivers, rate their delivery quality and provide feedback.
Smart analytics & SLA monitoring:
Analyses and visualises the performance of clients' orders, stores, drivers, and delivery areas right in your dashboard. It also unlocks more insights by exporting analytics and raw task data to CSV to be used in any reporting platform. The software's advanced heat map enables clients to visualise the density of orders across the locations to optimise the fleet capacity. SLAs Monitoring dashboard facilitates the monitoring of SLAs and by clients and receiving real-time alerts for any SLA failure for any team or store.
Electronic proof of pickup and delivery:
Clients can ensure deliveries were successfully completed by requesting customers' electronic signatures, item photos, or notes.
Lyve has positioned itself as a key player in powering the digital economy with its logistics and technology solutions and have enjoyed phenomenal success since its inception in 2015. However, what is that differentiates you from your market rivals?
What differentiates us in the market is the last-mile delivery ecosystem we have created for our clients. We leverage the rapid evolution of technology to fully digitise and streamline every aspect of this field's landscape. Besides providing a fleet of drivers, our series of digital products complete each other, while fulfilling every requirement an online business may need at any point in the last-mile stage – making our brand a one-stop shop for clients.
Besides nGage by Lyve, we offer our clients a cloud-based management platform for a remote workforce called WaYnaQ. It provides total visibility and granular control from anywhere and at any time while enabling clients to manage salespeople, delivery drivers or repair teams. It also includes features such as intelligent deployment, geofencing, and advanced analytics.
DigiPO is another technology product our clients use. It is a secure digital P.O. Box with the ability to manage mail from any smartphone or computer, with a mobile phone number becoming a P.O. Box number. Once a customer downloads a DigiPO-enabled app, they can create a digital P.O. Box in a matter of minutes.
We have merged outdoor advertising with technology, creating Brandware – a digital update of the look and feel of fleet and delivery specialists. This technology includes uniforms with digital panels, delivery boxes, and backpacks – making the customer journey more consistent and opening up new opportunities like seasonal advertising and changing campaigns and visuals with the click of a button.
What motivated your thinking behind the decision to rebrand the company in August 2020?
The decision to rebrand was a key step towards our business growth strategy. Over the past few years, our brand has developed and matured through innovative products and a robust technology, which we felt ready to showcase in an up-to-date, sophisticated manner that reflects our capabilities.
Our rebranding exercise consisted of a new company name, logo and website which expresses the dynamic expansion of the company and its vast growth and development, with digital efficiency as its core value. Our new name and identity represent exactly our core values and what we believe in and seeking to always accomplish.
The name Lyve – a play on the word "live" and the idea of being 'live' represents our continuous connectivity on all levels: always being technologically up to date and always being able to monitor all business activities through our Lyve Logistics and Lyve technologies, and the ability to always be 'hands on' in all phases of the last mile.
What are your primary goals and objectives for the remainder of 2021?
Our primary goals and objectives for the remainder of 2021 is to expand our e-commerce portfolio while opening the door to new entrepreneurs. The pandemic has changed consumer behavior and in 2021 the UAE alone has witnessed an increased online demand of 54.8% in the category of food and personal care items, 45.6% in furniture and appliances, 42.2% in fashion and beauty products – increasing the demand for last-mile logistics and solutions.
We are leveraging our technology products to accelerate the growth of e-commerce in the region by supporting businesses of all sizes looking to venture in digital entrepreneurship – without having to worry about a lack of expertise in the field of operations. With user-friendly and easy to use software, the load of fleet management is taken off the shoulders of young entrepreneurs.