Nitya Ravi of CPI speaks to

Nirmal Kumar Manohar, Regional Director of ManageEngine 

about the special product offerings available to their customers.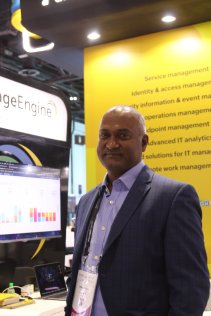 ManageEngine, the enterprise IT management division of Zoho Corporation, has announced the addition of data loss prevention for endpoints, anti-ransomware and endpoint compliance capabilities to its unified endpoint management (UEM) solution, Desktop Central. The company is demonstrating the new security capabilities at GITEX Technology Week in Hall 7, booth number H7-C1.
"This GITEX 2021, we are focusing on our unified endpoint management and security solutions and also highlighting the need for organisations to stay compliant with industry regulatory standards",  said Nirmal Kumar Manoharan, Regional Sales Director of ManageEngine. "In our recent Digital Readiness Survey 2021, we observed  that 83% of respondents globally faced a surge in security risks due to remote workers. With cyberattacks rapidly evolving across the globe, it has become crucial now more than ever for organisations to implement a proactive approach to enable a secure remote or hybrid work environment".
Enterprises, banks, financial institutions and educational institutions in the Middle East are always looking for solutions that can help improve their productivity, reduce costs, bolster security, ensure reliability and offer better service to their customer base. ManageEngine brings in these benefits with a wide range of affordable solutions IT management and security solutions addressing IT service management, IT operations management, unified end point management, IAM, IT security and IT analytics that offer a seamless user experience with contextual integration. This helps orgnisations remove a lot of barriers for technology transformation within their businesses. Crafted with precision, our comprehensive suite of 90+ products and free tools provide reliable solutions to help organisations secure, control and manage their IT ecosystem.
ManageEngine was recently recognised as a 2021 Gartner Peer Insights Customers' Choice for Unified Endpoint Management Tools, with an overall rating of 4.5/5 from its customers and an 87% "Willingness to Recommend" in the UEM tools category. The honor is based on customer reviews received through the evaluation period ending November 30, 2020
About ManageEngine
ManageEngine is the enterprise IT management division of Zoho Corporation. Established and emerging enterprises—including 9 of every 10 Fortune 100 organisations—rely on ManageEngine's real-time IT management tools to ensure optimal performance of their IT infrastructure, including networks, servers, applications, desktops and more. ManageEngine has offices worldwide, including the United States, the Netherlands, India, UAE, Mexico, Singapore, Japan, China and Australia, as well as 200+ global partners to help organisations tightly align their business and IT. For more information, please visit manageengine.com; follow the company blog at www.blogs.manageengine.com  and on LinkedIn at www.linkedin.com/company/manageengine, Facebook at www.facebook.com/manageengine  and Twitter @ManageEngine.