CNME Editor Mark Forker spoke to government relations leader for high tech companies, Sam Blatteis, CEO of The MENA Catalysts, the voice of the Middle East digital economy. We wanted to find out the backstory of this rapidly expanding government relations firm, the key role it plays in clearing the path for brand-name high tech multinationals 
and hear insights into 'Programme HQ' a Saudi concerted effort to attract digital businesses to the Kingdom.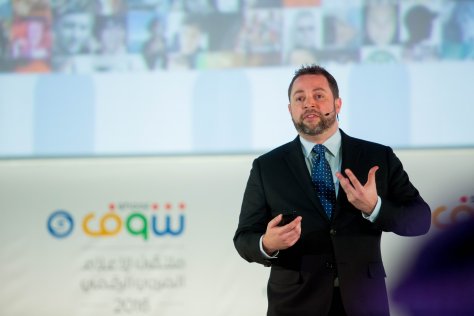 In a candid and colourful discussion, Blatteis demonstrated why he is regarded as one of the interesting and prominent thought leaders in the technology ecosystem in the Middle East.
Prior to forming The MENA Catalysts, Blatteis was Google's Head of Public Policy and Government Relations for the Gulf countries and quickly unearthed that (1) incumbents were not delivering tech companies' priorities (2) many executives thought they were in the tech sector but they were actually in the "relationship business."
"When I was at Google, we shopped for a government relations agency with the right connections and the right high-tech sector knowledge, to be our 'arms and legs' but we found that there was no substitute for seasoned veterans directly from the high-tech sector and based full-time in the Middle East", said Blatteis.
The charismatic CEO of The MENA Catalysts said that, "The government relations world can move at the speed of molasses or the speed of lightening. The government relations team is the one that opens the market, secures the license in order for your product to generate revenue, strips business barriers, protects operations, and/or defends a trusted brand with regulators that allows clients to continue to operate in key Middle Eastern markets. In short, sales and marketing are tactical activities, it [government relations] is the foundation for growth, the strategic fuel for clients to 'win' in the Middle East, perhaps more than any other corporate function". Boston University Economist James Bisson published a paper demonstrating that from 2000-2016, increased company profits were tied to government relations activity.
Blatteis and his team observed that, "many corporate leaders had a false sense of comfort — that because consumers trust their products — that government leaders maybe trust the reputation of their regional businesses HQs too, a significant gap. However, those that can successfully bridge that divide, could transform their Gulf advantage into a global one".
"When brand name high-tech companies are rolling out a new product or facing a problem, they partnered with us because we could 'clear the path.' We knew what they wanted because we had done it before. We have sat at the table contributing to draft digital economy legislation that will affect the region's high-tech sector for decades to come". Blatteis's team includes former leading Gulf technology regulators.
The MENA Catalysts has become the principal company standing up for the high-tech sector in the Middle East.
Blatteis said many tech leaders used to think that 'government relations is too expensive', but it does not have to be cost-prohibitive. A growing number of companies do it for $10k-$15k per month, if the team knows what they're doing.
One challenge that The MENA Catalysts solves is that many tech companies find it slightly complicated serving the region by 'remote control' where decisions are made eyeball-to-eyeball. A growing number of high tech companies have someone in Dubai, but are responsible for influence in three Arab capitals that they are not in [of Abu Dhabi, Riyadh and Cairo or Doha], where The MENA Catalysts has significant relationships, Blatteis showed.
He observed that a consensus emerging amongst high-tech companies is that "government relations is quickly becoming the API between business priorities and achieving market expansion here, as governments have become second only to customers in their ability to affect companies' regional business plans", said Blatteis.
Our conversation then moved to Saudi Arabia, and I asked The MENA Catalysts' CEO about his recent interview with the Financial Times, in which he said, "The virus has contributed, counter-intuitively, to creating a fertile soil in Saudi Arabia for high-tech multinationals".
"The impact of the virus has been a two-level game in the region between creating significant business difficulties for offline, analog companies and catapulting demand for digital services as people stay home. In the epicentres of growth in most industries in Saudi Arabia, you will find digital tech companies re-thinking and reinventing their businesses, from social events to entertainment to community-building", said Blatteis.
The CEO of The MENA Catalysts also highlighted that Saudi Arabia has a tech-savvy young population which fosters an environment for tech companies to achieve significant growth.
"When you have 70% of the country that is under 30, that's not a nice to have segment of society, that's the majority of the population. Saudi Arabia has gone from single digit penetration in the year 2000, to among the highest internet usage per-person on earth, especially social media usage per-person on applications such as Twitter and YouTube. The combination of all these factors create a lot of areas that are ripe for growth for tech companies because you've got so many digital natives", said Blatteis.
In terms of Programme HQ, which is one of a number of ambitious new Saudi initiatives to attract companies to Saudi Arabia, Blatteis observes that there is growing pool of tech multinationals eyeing the Kingdom as a large, new growth market.
"Saudi's wide-ranging engagement strategy with high-tech companies is a marker and demonstrates the country is pursuing attracting the keepers of international good practices in an inclusive, disciplined fashion", said Blatteis.
The notion of companies expanding their operations in Saudi Arabia has shifted from the periphery to the centre, as seen with Alibaba and Google's recent market expansions into the Kingdom.
"We hear from a growing number of tech companies' heads of market expansion who understand that Saudi is one of the Arab digital economy's two centres of gravity. The other being the UAE. Saudi Arabia today comprises of about 55% of today's Middle East e-shoppers. The constellation of companies expanding in Saudi reveals that multinationals are reinventing their 'order of operations' to market expansion in the region, from serving remotely abroad to moving data-centres, head count and physical offices to open markets and unlock growth in focused, organised ways," concluded the expert Blatteis.