Dubai-UAE, 21 February, 2021: The Emirates Institute for Banking and Financial Studies (EIBFS), a regional leader in banking and finance education and training, and DIFC Academy, the provider of world class education in Dubai International Financial Centre (DIFC), the Middle East, Africa and South Asia's leading global financial centre, today signed a Memorandum of Understanding (MoU) to strengthen financial training and expand knowledge exchange.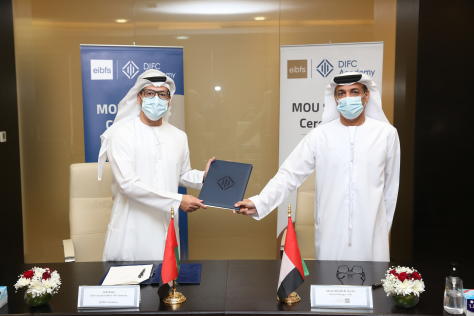 Jamal Al Jassmi, General Manager of EIBFS and Arif Amiri, Chief Executive Officer at DIFC Authority, signed the strategic partnership agreement in the presence of senior management from the EIBFS and DIFC teams.
Under the terms of the agreement, the partners will work together to identify skills gaps in the industry, curate customised programmes and issue certifications for the professionals working in the financial sector in the UAE and beyond. The partnership will deliver cutting-edge learning solutions to enable professionals deepen their competencies in line with the UAE's national objectives. Furthermore, the two entities will collaborate in hosting workshops and events to raise awareness of DIFC Academy's schools and EIBFS's training modules.
Speaking on the agreement, Jamal Al Jassmi said: "We are pleased to partner with DIFC Academy on this important initiative. Developing deep-seated competencies in the banking and finance space is now an important priority, and we believe upskilling existing employees is the first step in achieving this goal. Our rigorous annual training programmes, focused on 12 competency-based learning pathways and covering functional skills and soft skills development courses in banking and business-related subjects, can offer significant value for DIFC Academy's subject matter experts in planning their course content".
He added: "At EIBFS, it is our continuing endeavour to expand our portfolio with partners and colleagues in the industry to address the existing skills gap and thereby deliver on the UAE's core priorities".
Arif Amiri, CEO of DIFC Authority said: "DIFC is focused on shaping the future of finance and contributing to a knowledge-based economy. In part, we can do this by providing education opportunities for people who already work in the industry as well as the next generation who will contribute in the future. Through the DIFC Academy, we are pleased to be collaborating with EIBFS to develop the much needed talent in the financial sector across this region".