By Nitya Ravi, Editor, CPI Media Group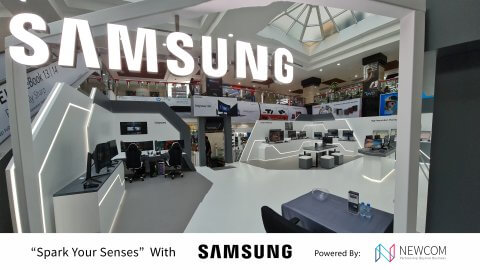 I had a chance to be at the 'Spark your Senses' with Samsung Experience Zone organised by Newcom at Al-Ain Centre, Bur Dubai. It was one of its kind and the first one ever to be set up in such a grand scale in Al-Ain Centre.
"Newcom is the authorised distributor for Samsung's monitor category. We came up with this idea of an experience zone that will give a better perspective and feel of the products for the end consumers as well as help our resellers and customers in Al-Ain Centre to leverage out of the same", said Aparna Chaturvedi, Marketing Manager at Newcom.
On display were the entire range of Monitors from Samsung right from their Smart Monitors M7 and M5 the gaming monitors including the star attraction Odyssey Neo G9.
The Samsung Odyssey Neo G9 Gaming DQHD Quantum Mini-LED Monitor, a 49-inch DQHD resolution gaming monitor with 1000R curvature inspired by the human eye, a 32:9 screen ration and with Samsung's unique Core Sync lighting delivers the ultimate immersion to gamers. The 49-inch DQHD resolution brings you a display as wide as two QHD monitors sitting side by side, with incredibly detailed, pin-sharp images.
There were two of them kept side to side where influencers and gamers met for a gaming tournament.
'This gaming tournament is organised by Newcom on a close invitation. Whoever wants to play registers with us and we invite two of them for a face off every alternate day. The winners go to the semi finale and eventually to the grand finale where the ultimate winner walks off with a Samsung Odyssey Geo N9! It's quite exciting!" she added.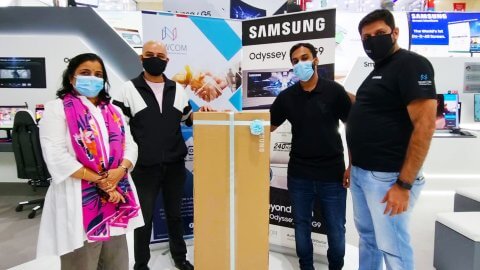 The next placeholder was the very sleek and award-winning Samsung Smart Monitor M7 43".
"There is a reason it's called a smart monitor. It's a versatile screen that maximises productivity and at the same time enhances entertainment. You can use this as a computer screen to do your work and presentations and use it also as a screen to watch movies and other forms of entertainment", said Chaturvedi.
The Samsung 43″ M7 Smart Monitor has in-built speakers, Office 365 and a remote control that helps simplify your chill time. You can access entertainment apps such as Netflix, YouTube and HBO without switching on your PC or laptop. It's UHD resolution allows you to watch content in amazing quality and its USB type-C port enables you to power up, transmit data, and even send display signals between devices with just one connection. With its Automatic Source Switch Plus, your monitor detects and switches to newly connected devices as soon as they are plugged in – Just Plug and See, no more switching around.
With the Bixby voice assistant option your monitor listens to what you tell it. You can switch between apps, control videos, and more through the Voice Assistant or SmartThings app. The Monitor has also won the iF design Award for 2021.
'The Experience Zone is a success", added Chaturvedi proudly, 'We prefer calling this an Experience Zone rather than a road show. Experience is what we intend to give to the customers be it in the gaming zone or otherwise. This will help them to choose and buy without a moment's hesitation since they have hands-on experience at the venue. Not only that, but people can also scratch and win exiting prizes on buying any Samsung Smart Monitor and Gaming Monitor. Prizes include accessories that complement the Smart Monitor or the Gaming Monitor. We have had many people walking away with gifts with only maybe one or two exceptions".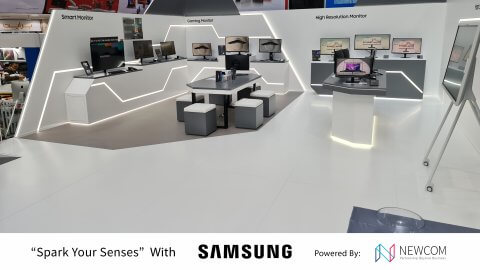 The experience zone was accessorised by Logitech and Rapoo with their premium range high performance gaming Products. Newcom intends to duplicate the success of the Experience Zone in the coming months in different venues including malls. For sure these zones will be an interesting experience.
Newcom Computer Systems is one of the leading distributors in UAE with 18 years of experience for well-known brands like Logitech, Samsung, Hikvision, Targus, Rapoo, ViewSonic, Norton, J5create, Tucano, HP, ESET and more. With their current presence since mid-2021 in Africa region, they are opening their doors for new brands under new categories to associate with their growing team. The company was recently awarded 'Best rising Distributor' for their Value added distribution as well as Channel Distribution in UAE.