Attributed to: Ernest Azzam, Large Format Printing Regional Business Manager – Eastern Europe, Turkey, Middle East & Africa at HP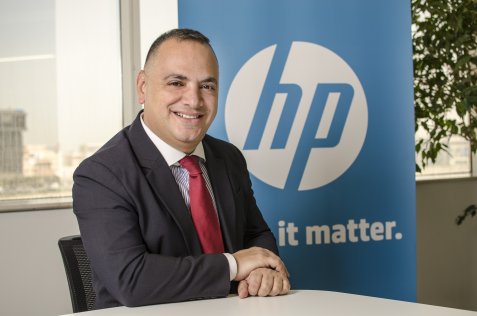 Despite a difficult and atypical year, Print Service Providers (PSPs) have demonstrated their ability to adapt to changing consumer needs. In the early phases of the pandemic, demand for COVID-19-related signage, particularly floor graphics and health awareness signs, increased very significantly in the Middle East. PSPs had to react quickly, providing shorter runs while maintaining efficiency and profitability. Those who were further along in their digital transformation path were in the best position, able to use cutting-edge technology to meet tight deadlines, include new formats, and ensure long-term printing.
As we slowly but steadily recover from the pandemic, it's a good opportunity to consider the long-term implications of these changes, as well as how connectedness, adaptability, and sustainability will create the "new normal".
Connectivity
Remote tools and software became indispensable for monitoring device performance and output without physically being on site or in front of the printer when workforces were connecting remotely, and social distancing measures were implemented. For some PSPs, this was the first time they saw the value of digital printing as a way to grow their business. They looked at software solutions in particular as tools for enabling more powerful, adaptive, and profitable labor.
HP PrintOS, for example, has proven invaluable in helping users keep on top of production and make data-driven choices. However, remote access software is not enough on its own; intelligent automation is also necessary. The HP Applications Centre, for example, may enable businesses simply incorporate an online decoration and signage design experience tool into a website, or the HP Configuration Centre can let customers easily customize substrate profiles across an entire fleet. Third-party solutions can also be quite useful in delivering a full and dependable end-to-end workflow that integrates seamlessly with print devices.

Adaptability
Being adaptable and agile has always been important, but it has become even more so for PSPs in the last year. Customer demands shifted overnight, resulting in an extraordinary increase in the demand for PPE, face masks, and accompanying signs. PSPs needed to adapt to changing demand and try out new forms or risk losing jobs.
For example, Several PSPs in the Middle East used their HP Stitch large format dye-sub printers to print custom designed face masks. Adeco home, Kuwait, used their indoor safe Latex ink-based HP L1500 printer to provide decoration options and brighten the environment of their quarantined customers during the COVID-19 lockdown. Other PSPs benefited from the safe indoor usage of Latex ink to print safety posters and social distancing signs for public transportation and other premises.
Sustainability
Last but not least, sustainability is a crucial element that PSPs must consider if they are to remain competitive. The knock-on effects will be seen throughout the business sector, with enterprises looking for partners who can help them produce sustainable products and services, with nearly 60% of end customers willing to change their shopping habits in order to decrease their carbon footprint. Meanwhile, environmental restrictions will only become more stringent.
Being transparent about your print offerings' sustainability credentials will fast go from a "good to have" extra to a "must have" aspect of any deal. OEMs can assist PSPs in developing a better long-term product to stay competitive in the future market. HP's latest print technologies, such as the HP Latex line, for example, use water-based inks to generate odorless prints. The HP Eco Carton is used in all four devices in the new HP Latex 700 and 800 series, a cardboard-based cartridge that cuts carbon emissions by 60% and plastic usage by 80% compared to prior Latex cartridges.
It has been a difficult year for everyone in the large format print industry. To stay up with an unpredictable market, PSPs have had to quickly retool and rethink their business strategies. Large format players, on the other hand, can better prepare to prosper in the years ahead by understanding how these changes have played out and what this means for the future.