Sunday, July 25, 2021: AlJammaz Technologies, the leading value-added technology distributor and cloud aggregator in Saudi, GCC and the Middle East, announced today it signed a distribution agreement with Hewlett Packard Enterprise (HPE) for distribution coverage across Saudi Arabia.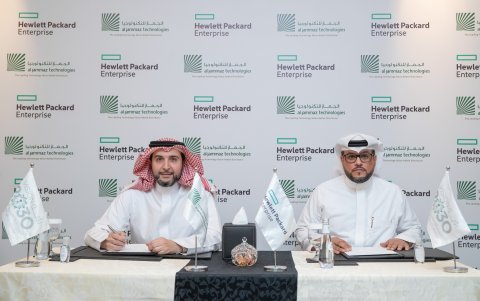 With this partnership, AlJammaz Technologies is authorised to distribute Innovative edge-to-cloud solutions from across the HPE portfolio, including Compute, Storage, Software and Intelligent Edge. AlJammaz will also offer solutions as-a-service via the HPE GreenLake edge-to-cloud platform, as well as a wide range of networking solutions from Aruba.
Through this agreement both organisations plan to jointly develop and enable their partner ecosystem to deliver next generation edge-to-cloud empowered solutions from HPE to support the digitisation of the economy in Saudi Arabia in line with Saudi Vision 2030. By working with HPE, AlJammaz is looking to help accelerate its partners' digital transformation journeys and help them stay ahead of what is next.
"We're excited about our partnership with HPE and look forward to empowering our channel partner ecosystem of System Integrators, MSP's, CSP's, VAR's and local ISV's to deliver next generation edge to cloud solutions for digital transformation with market leading offerings from HPE and Aruba. With our vast experience and resources, at AlJammaz Technologies our team will assist HPE to recruit the right mix of new partners, empower and enable existing channel partners across Saudi Arabia", said Eng. Asim AlJammaz CEO of AlJammaz Technologies.
He further said, "HPE brings unique opportunity for our partners to provide a complete set of solutions and services via HPE GreenLake, helping customers to automate, secure, optimise, and accelerate their digital transformation initiatives. With optimised compute solutions offered as a service, a seamless cloud experience for data and data infrastructure from edge to cloud. An end-to-end networking solution from Aruba platform that are designed to convert edge data into better business outcomes and greater operational efficiencies".
"We are very excited about our partnership with AlJammaz Technologies in Saudi Arabia. There is a great opportunity for both organisations to work together and unlock the full potential of our HPE GreenLake edge to cloud platform. This is because HPE GreenLake cloud services make it easier for channel partners to drive growth and expand their expertise to deliver as-a-service solutions to their customers. Recent enhancements to the HPE GreenLake service offering will assist HPE partners in selling, billing and capacity planning", said Mr. Issa Al-khamees, Saudi Arabia & Gulf Managing Director at Hewlett Packard Enterprise.
"HPE provides a unique approach to hybrid cloud through HPE GreenLake cloud services, which combines the agility and simplicity of the cloud with the governance and control of an on-premises environment. This strategy clearly resonates with the market and offers a great opportunity for partners to fulfill the digital transformation requirements of small and medium and enterprise businesses alike with on-demand, rapidly delivered  cloud  services delivered on a pay per use basis", said Mr. Issa Al-Khamees.