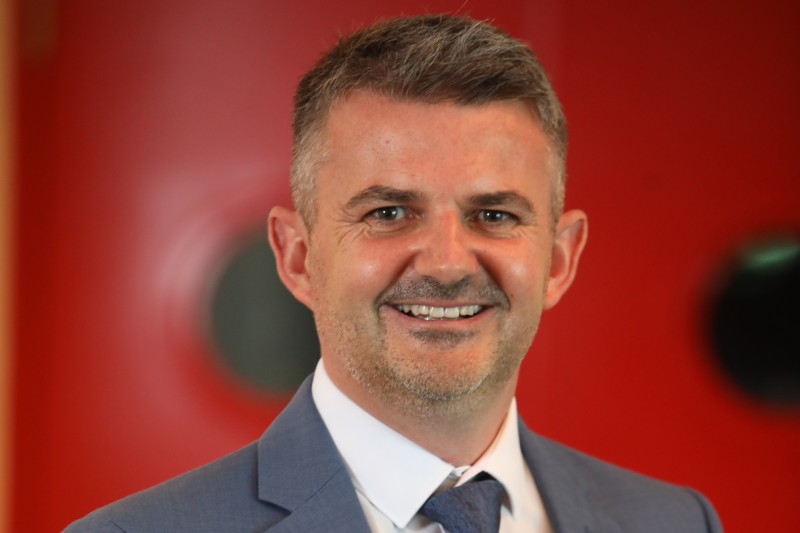 The concept of 'digitally transforming' the broadcast media industry may seem strange to some. By its very nature, television services are heavily dependent on technology, with a relatively low use of manual work and processes. However, Damian O'Gara, vice president of IT for the Middle East's household name in TV, OSN, feels that he still has much to do.
"Digital transformation means different things to different people, and to different industries," he says. "In the case of media, it's a question of improving and extending services, as well as the methodologies to deliver your product. Digital transformation at OSN is multifaceted. We are already a digital company, as well as a traditional direct to home (DTH) satellite provider."
Initially brought into OSN to work in a technology transformation advisory role in October 2016, four months of sterling work convinced the firm to hire O'Gara on a full-time basis in February. He now finds himself in the firm's top technology job, and is determined to broaden and sharpen the ways that OSN delivers 158 TV channels – featuring content from some of Hollywood's biggest studios, including  Warner Bros., Paramount, HBO,  Fox, Disney, Sony, MGM, Universal, ESPN and DreamWorks – to its viewers. "Three main aspects of technology motivate me to work every morning," O'Gara says. "Technology stability comes first. Next, it's how we can innovate to generate growth, and thirdly, how we can make cost savings. These are the metrics that I am always hungry to satisfy, and all initiatives that I work on fall into one of these categories."
Upon arriving at OSN, O'Gara made it his mission to ensure that people across the company were on the same page in their desire to initiate change. He acknowledges that if any sort of transformation is to take place at OSN, unity and passion are needed. "To get our digital transformation journey underway, it was extremely important to have a coherent digital technology strategy, but also for the company's leadership to be supportive of those changes," he says.
"We are extremely lucky to have a senior leadership team that have a vision, and completely recognise the importance of digital transformation for our ongoing success. Once you have this, it's important to have a bucket-load of enthusiasm from everyone involved, and to ensure that everyone works together to achieve your transformational goals."
While its DTH content business continues to thrive, the firm is increasingly looking at how it can diversify its delivery methods. OSN's digital over the top (OTT) platform, Go Online TV, which is being repositioned with new pricing and functionality, streams video on demand and live content to smart devices, web clients and Smart TVs. This breadth of delivery platforms is being driven by customers who are increasingly tech-savvy, and who demand uninterrupted service.
"We operate in a very competitive market, and it's imperative that we lead in this region when it comes to technology," he says "Technology in the broadcast media industry is extremely fast-moving, while subscribers are demanding increasingly advanced and intuitive services. For us, that could mean increasing the number of ways a customer can be billed and pay, or increasing the channels in which they can consume our service." O'Gara also acknowledges that enhancing internal IT processes is an essential part of sharpening business operations. "It's also a case of optimising our core workflows, whether that's the flow of data from Hollywood Studios to a subscriber's home or improving internal corporate IT flows."
However, it is clear that one component reigns supreme in defining OSN's quest for digital transformation. O'Gara has identified business intelligence tools as the secret ingredient to providing insight that will ensure OSN trumps its competition. "Business intelligence gives us all kinds of insight," he says. "From an internal operations perspective, it allows us to monitor systems' availability and our finances, but just as importantly, it lets us see how many subscribers are tuning in at any point in time. This kind of data will allow us to simplify the customer experience and extend ways to enhance our services. At its heart, business intelligence provides a wealth of information across the business, including understanding our customers' current behaviours and predicting their future needs."
Although OSN may have a captive audience in the Middle East and North Africa region, the current elephant in the room for all traditional broadcasters is the threat posed by online and OTT players that have had the head start of operating without certain legacy technologies within their infrastructure. O'Gara concedes that although OSN may be digital by its very nature, the intensity of competition within the broadcast media industry and public expectation have shifted the goal posts in terms of what needs to be delivered. "In the last 18 months in particular, the delivery and speed of products have grown at an unprecedented rate," he says. "Naturally, this motivates us to continually innovate and enhance our services."
O'Gara remains mindful of the need to ensure that OSN remains on its toes in the battle against other global players, but is firm in the belief that they are fully prepared to compete in a number of respects. "I definitely think we can provide services that are better than the competition," he says. "If we focus on what matters to our viewers, then that's definitely realistic. Investment is not a massive barrier in that respect." He does, however, believe that the Dubai Media City firm has an edge due to its inherent diversity. "Our content distinguishes us," he says. "We provide content for the most populous nationalities in the UAE and the MENA region, which is definitely advantageous."
He also believes that fresh approaches in technology will provide a huge advantage if the firm is to retain its status. "It is vital that we continue to innovate," he says. "We need to continue to extend our products and offer an incredible service to our customers, but at the same time, try out a variety of new technology ideas to ensure we continue to be leaders in the industry. Product improvement and company growth have a symbiotic relationship. Business and technology strategies constantly influence and inform one another."
A key aspect of this shift will be OSN's gradual shift to the use of cloud services in the coming months and years. "Since we are a content business and not necessarily an IT company, cloud computing features highly on our agenda," he says. O'Gara is currently leading a review of all of OSN's technology services, to decide which aspects could be moved to cloud. "We're striving for a cloud-first policy," he says. "Every month, we hear of more cloud providers setting up in the region, and this is can only equate to good news."
A selection of technologies that could transform the media industry have already caught O'Gara's eye, and he is hopeful that he will have the opportunity to work directly with them in the coming years. "There are AI technologies that can conduct sentiment analysis on characters' facial expressions," he says. He also believes that mixed reality holds huge promise. "It may take a year or so, but I definitely think that they have huge potential." O'Gara adds that he will look to introduce Blockchain and virtual currencies to OSN, but "not this year". "If we do, it would be so users could gift coins to purchase movies or loyalty points," he says. "These records of virtual currency payments would be recorded on Blockchain."
These areas for potential future development are all part of the bigger picture; O'Gara acknowledges that digital transformation is not a destination, but a continuous journey. "We won't ever finish our digital transformation drive; there is no end date to it," he says. "It is an ongoing process that will ensure we are always at the top of our game. We will continue to bring additional features to our customers throughout 2017, 2018 and beyond making our experience second to none."