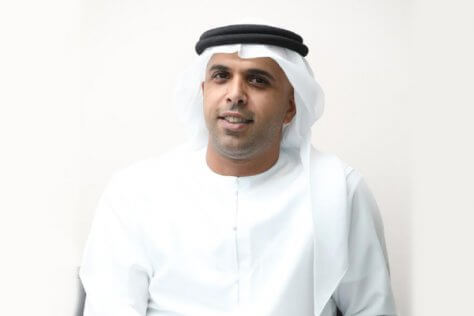 In an exclusive interview, Mohamed Al Qubaisi, Chief Technology Officer at Injazat Data Systems, discussed how the government-owned company is playing a key role in helping enterprises deal with the challenges they encounter when embracing new technologies.
Can you outline to us how Injazat helps their customers navigate through all the digital disruption they face on their journey towards digital transformation?
I believe Injazat is a crucial player in today's market in terms of what we can deliver to our existing and future clients – in the sense that everything is converging into IT. IT is becoming a crucial element of any vertical in any business across multiple sectors, and we're finding that many people are struggling to innovate and cause some form of disruption to their market.
Injazat has a number of different methodologies we use with our clients to help them create new lines of business.  We focus on both optimising operations and ultimately help clients accelerate innovation. We enable clients to achieve this by infusing our capabilities with an ecosystem that contains specific niche partners across industry verticals.
We're one of a very select number of companies that can say we can deliver strategy through to execution. We've been very successful at launching Public Private Partnerships (PPP) opportunities. PPPs are a very important component of our business today and were we are already achieving our vision of empowering human achievement through both our PPPs, one in Healthcare and the other for an IOT based Fire and Safety initiative. The approach we've adopted in relation to PPPs is that we take the initiative, we invest, we build, operate and transfer.  This is the win-win for both public and private sectors.
We want to be the 'go to' digital transformation partner, and we've got a proven methodology that works. We can accelerate innovation for our clients.  Digital disruption means making an impact quickly, and we achieve that speed to market through our newly established agile practice and factory.
Injazat has transformed drastically from where it used to be. We used to be a traditional managed services provider, but now we're much more than this with the introduction of Digital Business Consultancy, Innovation Services and an appetite for more successes with Digital Ventures.  We can provide an unrivalled end-to-end journey for our clients with our new cloud, emerging tech and cyber security services.
There has been a reluctance from some enterprises to adopt new disruptive technologies. Is it your responsibility as CTO of Injazat to help educate businesses on the benefits of embracing digital transformation?
Absolutely. A large part of what we do at Injazat is educate ourselves. We educate our employees to understand what disruption means, what agile means and what business impact we can have with these new technological advancements.
We help our clients see the art of the possible and discover the right digital business model that gets the most value for them. We engage with our clients, we talk strategy, we ideate and we reinvent.  Our aspiration is develop a frictionless Digital Business.  We work closely with SMEs in the Business as they have excellent analytical insights.
There are a lot of data science opportunities that you can take from SMEs within an organisation and plug them into an analytical role. There are so many examples of how we can take existing talent and reposition them in terms of what value they can add. This is what happens every time a revolution comes. The first Industrial Revolution meant that we needed to learn new skills and do new things, and the new world will be the exact same.  AI will accelerate the advancement of all capabilities.
People have expressed skepticism and fears over AI.  The greatest value is freeing us up to do other things that we simply can't imagine today. The idea is not to automate everything, the idea is to free people up and do much more than we could imagine.
From your experience, what are the main pain points for organisations seeking to undergo a full digital transformation of their existing operations?
For us digital transformation really means creating new ways of working to deliver a much richer experience. We strongly believe in that. There are other elements of transformation that support that like digitalisation and automation, but we're really focused on creating new business models, Tech platforms and enriching these with a strong partner ecosystem.  That's ultimately where we see the future.
IT used to be a support function were the back office helped the business grow, but now IT has become the business. Our Digital Venture approach helps us focus on that and at the same time we have our existing core business to optimise operations and keep the lights on.
We have the horizontal capabilities, but now we're talking business, we're talking healthcare, we're talking smart cites. By combining all of this means there is going to be a lot of innovation happening. We're interested in partnering with businesses that can have a high impact on value creation. We're taking on more risk, but we're having a greater impact.
Do you think the commercial deployment of 5G will help accelerate the development of emerging technologies like AI, Blockchain and Big Data?
It is important for everybody to understand that 5G is not an upgrade from 4G. 5G is a leap, we're talking about 140Gbps, with one millisecond of latency – that changes everything. That can enable you to do real-time surgery from the other side of the planet. The amount of data we can extract from IoT devices becomes immense, and we all know the better the data the better the analytics.
The insights we're going to get from 5G, we can't even imagine yet. However, we do have use-cases and some scenarios that we're working on today in terms of how we get ready for a smart connected world. When we talk about IoT and smart cities we have a fully-fledged team examining those use-cases, and they're engaged with government entities in terms of testing to makes these use-cases a reality.
Can you give us a little bit of insight into your own journey with Injazat Data Systems, and outline to us your main roles and responsibilities as the CTO?
Injazat has undergone a significant internal transformation and decided that in order to remain essential, they had to create more products and services.  They needed to differentiate and establish new capabilities. They created a new function called CTO and that's when I came onboard.
We now have three major product lines which sit under me and they are products, innovation and solutions. This team is the horizontal team which looks at technology in-depth and is currently working with all kind of business units, whether its digital transformation, business development or sales. They meet with the client and they get those ideas out there, test them, show them and immediately create an applicable prototype that can be implemented.
We have a lot of methodologies that can solve a lot of problems. Our overriding vision is to solve the problem. The capabilities and entire ecosystem we're building here at Injazat is to address issues and solve large problems both locally and globally.
GITEX is the ICT industry's flagship show. What can we expect to see from Injazat at this year's event?
At this year's GITEX, we want to demonstrate our new capabilities, our new approach and our new methodologies. We're going to have an area in which we can take people on a journey to explain to them what we're capable of doing, and to run them through what we currently have. The methodology plus our capabilities is what we want people to understand so they can consume our services, or we can help them reinvent their business.
What are your primary objectives and goals for the remainder of 2019, and looking ahead to 2020?
Our aspirations are very high, we want to grow our geographical presence. We're targeting new markets in the UAE and outside of the UAE. We want to plug-in as part of a global innovation ecosystem – and we're engaged with a very large number of partners to explore new opportunities and being part of that ecosystem allows us to gain access to the latest innovations in the world.
We're also placing a big emphasis on talent, training and scaling up the team. We're witnessing a lot of demand, and we want to be able to help more and more clients so that's why we're growing our team.