Rochak Vig, Director Sales, Enterprise Business Solutions, Raqmiyat, tells RME that the company is looking to expand its footprint in the Middle East region by creating value for its customers and partners.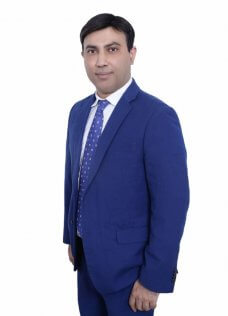 How would you evaluate the business opportunities in the regional market now, especially post the pandemic? How is Raqmiyat tapping into new opportunities and technologies to drive growth?
"It is not the strongest of the species that survives, nor the most intelligent. It is the one that is most adaptable to change". These words are just so relevant in today's scenario, where even some established businesses are falling apart, and new start-ups are turning out to be the winners in the unpredictable market landscape. Huge demand by businesses to innovate and address fast-paced changes has brought in the phenomena of "Digital Transformation". Pandemic has expedited this process of organisations embracing this transformation, as now it is not just a good to have an option but has become a necessity to stay relevant and at times stay ahead of the curve. To ensure that the digital journey is undertaken and not just a buzzword that is kept in the corporate showcase, it is critical for every business to identify areas where it needs to undertake such transformation, link digital innovation to business objectives and goals that need to be achieved and then execute this journey through appropriate technology solutions available. Technology has become an enabler and a disruptor, which helps not just survive but to optimise, address challenges and excel in different spheres of professional as well as personal life. Different verticals may have different challenges and opportunities, thus there is a huge opportunity for IT Services companies like Raqmiyat to help clients leverage technology to innovate and lead the change.
We at Raqmiyat are collaborating with various technology partners to help organisations improve their operational efficiencies, optimise costs, and enhance productivity by undertaking cloud journeys, automating their business applications – through ERP, HCM, CX, or procurement solutions, leveraging low code and no-code platforms for rapidly deploying applications, create a paperless office, harnessing and mining data through analytics, leveraging AI/ML for relevant customer/internal focussed used cases, remote collaboration, cybersecurity, API management and lastly we are helping organisations in undertaking quality assurance & engineering initiatives for various projects being undertaken to ensure superior outputs are attained with minimal defects.
Customer experience is the key to success. What are the steps that organisations are taking, to enhance customer experience and what solutions and services IT services companies are offering them to support their intent of creating happy clients?
Businesses need to be extremely close to their clients in order to keep a track of their pulse and then align their offerings to their needs, challenges, and preferences. Organisations are thereby keeping customers' happiness at the heart of their plans and strategies. The key for every business is to have a 360-degree view of their existing and potential clients to align their behaviour with its marketing, sales, product, and customer service plans to ensure the clients get an extraordinary experience while procuring a product/ service and later for the post-sale service. Every client may have a different requirement and we may need related solutions to resonate with the customer's emotional and intelligence quotients. IT services companies are partnering with these businesses by leveraging best-of- the-breed solutions to enable them to create customer delight for both internal and external stakeholders. Whether it is getting the omnichannel strategy right using diverse touchpoints like mobile apps, web and physical stores to enhance customer experience, or its leveraging data through analytics for more informed decision making to acquire, cross/up- sell, and then retain clients, or using AI/ML solutions to give the clients easy collaborative communication frameworks along with a personal touch, each of these solutions results in strong long-term relationships with them.
With digital transformation gathering so much pace, what do you think are some of the challenges that businesses face in their journey?
New niche technologies are coming and disrupting the status quo in absolutely no time. Go-to-market cycles have reduced significantly and every business needs to be agile to adapt to change within the shortened timeframes available now. Legacy systems, approaches, mindsets are becoming outdated and make the survival of business extremely difficult. Some of the challenges they are facing include identifying what solutions are relevant to them from a market and domain perspective. Having capable/ trained resources and partners to execute these initiatives successfully within allocated budgets is another area where businesses are struggling. Change management and adoption by relevant stakeholders is yet another element that puts these initiatives at risk. Finally, current market conditions due to pandemic have also left the organisations in a spot about budget allocations and the timing of making these strategic investments.
What are some of Raqmiyat's strategic growth plans and goals for the future?
Raqmiyat is looking to expand its footprint in the Middle East region by creating value for its customers and partners leveraging technology and bringing vertical knowledge coupled with the latest niche technologies. We are trying to touch every aspect of our client's business and helping them optimise operations and catalyse growth by enabling them to undertake these transformation journeys to become leaders in their respective segments. Raqmiyat intends to become a regional IT services powerhouse with plans to double our revenue in the next 3 years consolidating its footprint in verticals like the Public sector, Banking, Utilities, Telecom, and Aviation where it has traditionally been strong and also open new avenues in certain other high growth segments by offering them cutting edge solutions along with our partners. We are confident of making achieving set growth objectives and contributing positively to the expanding local economy nurturing long- term associations.
Any final thoughts?
"The illiterate of the 21st century will not be those who cannot read and write, but those who cannot learn, unlearn and relearn." Learning is the quality that shapes our life – Let's keep it coming.