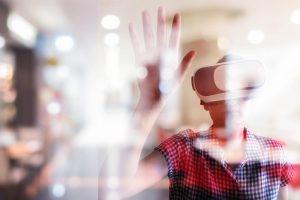 Virtual Reality (VR) has the potential to shake up the retail industry as we know it. Retailers can create unique and immersive customer experiences through this technology. We speak to regional players to examine the opportunities this can unlock for their businesses.
Virtual reality (VR) technologies have the potential to allow customers to walk into a retailer's shop, half way across the world, and check out and purchase items, as they would in an actual store, without moving from their couches.
A Goldman Sachs report in 2016, outlined in one of its estimations of Augmented Reality (AR) and VR hardware and software adoptions over the next decade that it expects $80 billion in revenue by 2025 with $45 billion in hardware and $35 billion in software. Further, the report predicted that VR/AR retail would be worth $1.6 billion by 2025, with at least 33 million users.
Raghav Koorichh, consumer category and brand manager, UAE, Gulf and SELL, Dell, says that the VR industry is beyond the point of being a "new innovation" and has entered into a mature phase of its life when it comes to customer experience.
"This is because," he explains, "VR technology has the potential to offer a greater level of emotional resonance to objects, through sensory impact and by creating deeper intimacy remotely. It is a flexible medium that provides easy and instant information accessibility pertaining to the customer's preference in a user-friendly format. Also, VR technology can help create a compelling experience, allowing the customer to witness an array of real-time scenarios, eliminating the need to make judgements based on one-dimensional representation of an object."
All of this together, enables improved and optimised customer experience, without the hassles of emotional engagement, understanding and tailor-made product sales, he adds.
E-city's marketing and retail development manager, Dirk Raemdonck, says that increasing number of companies are now leveraging this technology to empower their customers and provide them with a highly personalised and interactive experience in a "never-before-seen level".
He says, "Through VR, prospective retail clients will get a real-time view of the products and can virtually test the items prior to purchase and even without visiting the actual, physical store. VR may have started as a technology for gamers, but it has evolved into a platform that can meet the daily demands of tech-savvy customers seeking enhanced and unique experience in this age of impressive technological advancements."
VR can create an environment, which allows for a deeper customer immersion and experience of products, events and surroundings.
According to Nadeem Khanzadah, head, OmniChannel Retail, Jumbo, one of the latest trends to have emerged in the UAE consumer electronics sector is VR wear, which has been introduced by large technology brands.
"A large segment of VR revenue arises from gaming; however, VR wear is not just limited to gaming. Technology of this nature has several other uses, such as experiential marketing and training," he says. "For example, Google Cardboard is a cardboard device, which converts any smartphone device into a virtual reality headset by utilising two lenses and a magnet. This is a brilliant idea, which allows for the VR experience to be more accessible to both retailers and customers, and we expect this solution to gain more popularity over time."
Examples of VR in retail include the automotive company Lexus tapping into Oculus Rift glasses, enabling its clients to take a virtual test drive of their new models with a more 'realistic' feel as opposed to regular driving simulator, says Raemdonck.
"Another example is Volvo. Leveraging the power of the Google Cardboard technology, Volvo customers get a feel of test-driving the vehicles of their choice on the road. Their virtual reality includes videos of different landscapes to take interested buyers to a rewarding imaginary journey," he adds.
Hichem Maya, head of Industries, SAP MENA, says, "Already, we are seeing augmented and virtual reality innovations begin deployed in the Middle East. For example, Emirates NBD recently prototyped the Really! App, which lets home buyers identify houses in different neighbourhoods based on demographics, and take virtual home tours, while also connecting them to Emirates NBD home loan agents."
As per a Statista survey, the number of active VR users is forecast to reach 171 million by 2018, which has led to several retailers investing in the technology. While this is one way to know the potential of the market, how can retailers judge if it is worth investing into a VR solution, especially with technological innovations taking place frequently?
Khanzadah says, "In order for a retailer to decide whether investment in VR is necessary, the brand must understand the demographics of its clientele. Successful organisations that are aligned with their customer needs and backgrounds fundamentally change how they operate for the better."
"Every Middle East retailer should be looking to invest in virtual reality. This is not an easy investment – it requires aligning with specialised channel partners to simplify and consolidate the underlying technological infrastructure, build up the digital IQ and skills across the organisation, and incubate new digital business models," adds Maya.
While industry awareness of VR technology and its role in sales growth is steadily increasing, Raemdonck, says, "A lot still needs to be done to encourage investment in the technology and its integration within business operations.
"Companies have now begun to appreciate and acknowledge VR's immediate benefits, which could lead to new business models that will further engage customers and deliver unprecedented understanding of the product. This enhanced customer experience will most often than not translate into sales."
According to Koorichh, a key benefit of VR has been the ability to bring forward purchase decisions.
"With VR based digital solutions, businesses get a unique opportunity to offer their customers an immersive emotional experience, which results in faster decision making and increased sales. This has been witnessed across real estate and tourism sectors," he says. "We can expect an increase in the awareness about VR and its implementation as more products and solutions are introduced and as customers get accustomed to virtual experience, which will lead to businesses adopting VR."
The VR market is set for further development in the Middle East and North Africa region, according to a Deloitte report. The growing focus to deliver innovative products and services in the region that are personalised to suit the demand of consumers is driving the growth of VR technology. Also, the increasing demand for computer gamers and interest in VR-enabled gaming and enterprise applications has also led to a spur in the technology in the region, adds Khanzadah.
"However, in order for VR technologies to become mainstream, the correct infrastructure such as 5G networks, should be put into place for a seamless experience," he says.
Agreeing, Raemdonck, says, "A number of businesses are slowly adopting the technology to help them visualise their store layout and potential traffic concerns, among others. As early as now, we are seeing its positive impact on the industry and we expect its adoption to fully take off in a few years' time. It is only then that we can accurately gauge its effect on the regional retailing space."