A self-developed autofocus ultra-short DLP AI device which combines AI technology and AnyTouch function that works on all flat surfaces and enables responsiveness on par with capacitive displays.
Hachi Infinite is a visual assistant and portable projector that turns any flat surface into an interactive touchscreen. It features an ultra-short throw DLP and a 500 lumens HD display of up to 120 inches from just half an arm's length away.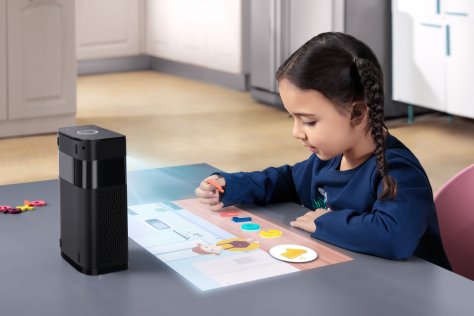 Unlike projectors with basic touchscreen capabilities, Hachi Infinite employs a proprietary multitouch technology called AnyTouch that works on all surfaces and enables responsiveness on par with capacitive displays. Coupled with high-precision sensors and deep learning technology, Hachi Infinite enables more intuitive interactions with users to create an enjoyable and immersive experience for kids and adults alike in learning, cooking, fitness and other settings.
Powered by a Qualcomm Snapdragon 670 processor, a new hardware framework, Hachi Infinite features built-in Android OS 9.0 and a custom UI, which allows users to enjoy third-party apps, games and entertainment with touchscreen functionality. The portable projector also offers voice control and wireless pairing across iOS and Android devices from any location.
With the application of Google's tensorflow framework, Hachi Infinite combines intelligent vision with family use case. In veritical projection mode, Hachi Infinite recognises letters through front-end cameras to help children learn English words and parents can also participate in it. This brings a new interactive experience.
In the kitchen, Hachi Infinite's front-end camera can identify salmon, fruits and other ingredients. It can also automatically analyse the nutritional ingredients and calories and match the corresponding recipes for users. Through in-depth learning, Hachi Infinite can continuously identify more ingredients and promote online kitchen to have a better application experience.