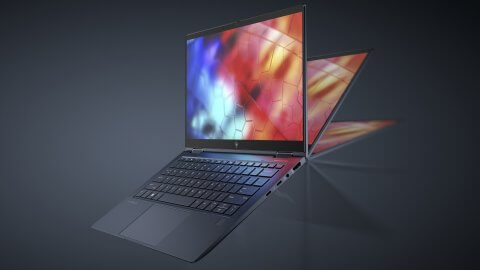 Artfully crafted to standout, designed to be powerful and hardened with security, HP's latest HP Elite Dragonfly redefines what it means to work without compromise with up to 24.5-hour battery life in a durable sub one-kilogram design.
Today's mobile business professionals need to move freely between conference rooms, campuses, airports, rideshares, and wherever work strikes. HP Elite Dragonfly is designed to make a bold, personal statement. It is lightweight and powerful offering the "world's longest" battery life in a 13-inch business convertible with up to 24.5-hour battery life and the latest Wi-Fi 6 connectivity. Optional gigabit-class 4G LTE allows workers to connect and collaborate from almost anywhere with the world's first business convertible with 4×4 LTE antennas.
HP Elite Dragonfly is also the world's first business convertible with preinstalled personal wellbeing software, HP WorkWell.
Light and durable:
World's lightest compact business convertible at under one-kilogram, precision crafted from CNC-machined Magnesium for durability in a commanding, iridescent Dragonfly Blue.
Say goodbye to clicking sounds with a redesigned ultra-lightweight quiet and backlit keyboard and a new lightweight touch pad for an ultra-smooth working experience.
Offers the world's highest screen to body ratio in a 13-inch business convertible at almost 86 per cent and instantly transforms from tablet to PC.
Smart and personalised:
Make health measurable and actionable at work with HP WorkWell software.
Coaches users to take breaks and provides individual productivity tips.
HP is helping users find a healthy work and life balance with personalised wellness recommendations.
Powerful and secure:
Verified to the target specification and key experiences of Intel's "Project Athena" innovation program.
Experience best-for-business performance with an 8th Gen Intel® Core™ vPro™ processor.
Wi-Fi 6 offers up to three times faster file transfer speeds than Wi-Fi 5 for higher performance in high density environments.
HP Sure Sense defends against malware attacks on mobile workers using the power of artificial intelligence.
HP Sure Recover with Embedded Reimaging gets users back up and running fast— anytime, anywhere.
Mobile professionals also need maximum productivity when they touch down in the office. A device like the HP Elite Dragonfly is perfect for capturing ideas, collaborating, and working on the go.
The HP Elite Dragonfly is expected to be available in EMEA from November, starting at €1299 (excluding VAT).