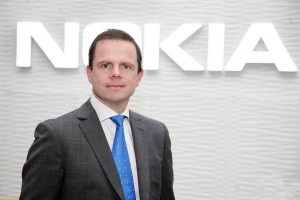 It's not an easy place to be, the smartphone market — but Nokia isn't shying away from the challenge of once again reigning supreme. Much like the glory days of the '80s and '90s, Nokia is back with a portfolio of stylish, colourful, playful and innovative devices that it believes can direct it back toward the smartphone summit. Tom Farrell, Vice President, Nokia MENA, talks trends, transition, and competition.
Thanks to the sudden emergence of BlackBerry, Apple and Samsung, you've had to majorly change your outlook in the last decade — how does Nokia see this?
I think Nokia has always gone through renewal — it's 147 years old. We started as a conglomerate, and the big change came in the '80s, when we decided to concentrate fully on this emerging market called telecommunications. To go from where we were then to what we went to was much less radical than the change we're going through now. That DNA of renewal has always been here — so in that sense, not a huge amount has changed for us.
You were once strong market leaders — what happened?
It's been well documented that we might have missed the boat in the smartphone market, and we've commented well on that in the last two years. We lost a bit of focus, and had a bit of complacency, sure. But it certainly wasn't a lack of innovation in the labs — we had great products before this new wave even came. All top brands in history have had moments like this.
Our industry has its very disruptive moments — we saw this convergence happening; pure telecoms of voice and SMS to Internet, apps, brand, everything. It changed the game.
Having said that, we have had a new strategy in place since February 2011, based on Stephen [Elop]'s new leadership. We released our third consecutive profitable quarter as a group, we're expanding our portfolio, and we've got some momentum now.
How much of this growth and momentum is down to your partnership with Microsoft?
Plenty. We launched the new Lumia 920 with Windows 8 in Q4 last year. It was very impressive; 4.4 million units. We built on that in Q1 this year; 5.6 million, and the Windows phone OS has by far the highest growth in terms of operating system, so there's a lot of momentum there.
It's important because, back in the day, it was all about price and colour. Now it's about this thing they call an ecosystem — the brand, the apps, the device, the operator — it's everything in one. We could have gone alone with this, but we wanted to differentiate ourselves and we're doing that with Microsoft.
The Nokia brand is still very much alive in the hearts of people. The way to bring it back to life is with great new products. We're still maintaining the values, but with great phones that have extra stuff inside the device.
There are some models that people will never forget — your models like 3210 and 3330 — then came the original BlackBerry and the first iPhone. These have a sentimental place in history. Does Nokia have another one of these stored in its locker?
We never forgot how to absolutely push the barriers of innovation. We have amazing guys in the labs that are doing mind-boggling stuff. We never lost that ability to provide some disruptive quality — our trouble was marketing that.
We've always done things that others could not. Even recently, with the 920, the first device with a built-in wireless charger and with a floating lens. If you look at the city lens, based on our mapping platform, nobody has this innovation. We're very much in a turnaround mode, yes, but we're moving upwards now.
I think the competition can talk for themselves — but you can never say what's coming next. I've always underestimated how fast things can change. This industry attracts so much hype and false assumptions, and one major one is that if something is working today then that's it, that's the way it has to go from now on. History tells us if there's a market that can change in one quarter, it's this one.
What interesting changes do you see in the market?
Well, for the first time ever, we've seen a higher sales percentage for smartphones than feature phones. We're seeing massive growth in the high-end now, which is interesting. Just think about how quickly the guys here jumped on 4G. Saudi has the highest YouTube consumption in the world — this part of the world really wants to consume new technologies and that's a great thing and very exciting for our market here.
However, on the other hand, the lower market also wants the opportunities to do more with technology — which again is something new. They want to browse the Internet and have apps, things like that. The whole dynamic has changed in the lower market. Asha is our lower-end offering, and it's practically a smartphone but with a condensed browser for data saving, for example. But overall it is a smartphone still, which is what the customers are demanding.
You say you're onto a good thing now — what's next for Nokia?
We're very excited because we have a strong base here, and now, with Lumia, we also have a strong product. Lumia is our future for now, that's our push product — you've seen by the results that this is going in the right direction.
In this industry, there is never an equilibrium. Either you're pushing to leap ahead or you're standing still and being walked over. Hardly any company has enough people, capital and ideas to create something that customers want. This is why we're confident — we have great resources, great people, great partnerships, and great vision.
If you're standing still, you better have some good friends because it's so intense. To survive in this market, you need three things; deep pockets, good people and great ideas.