In an exclusive interview, CNME Editor Mark Forker, spoke to Karam Malhotra, Partner and Global VP of SHAREit, to learn more about the company's phenomenal growth globally, how it diversified its service offering to end-users – and what ultimately differentiates the company from its streaming and file sharing rivals.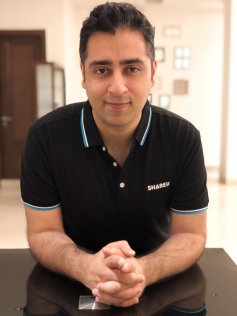 The ongoing COVID-19 pandemic has reshaped the world we live in forever. However, what I want to know is how you restructured your business model to adapt to the changing dynamics in the market and overcome the challenges you encountered during 2020?
The Covid-19 pandemic has not only disrupted the world we live in forever but has also made the future unpredictable.
However, we promptly acted upon our business model not just to overcome our business challenges but also keeping in mind our users and our vision to democratise digital content in every step we chose and acted upon. Social distancing may have prevented people from coming together but we humans are as strong as ever for our noble element of sharing.
In order to keep our users entertained, SHAREit has gone from strength to strength in its unique value proposition as a one stop vernacular content platform which can satisfy all the content needs at once under one platform.
Pertaining to our business, aided by our strong foundation, we have not only withstood the pandemic but have grown significantly. We have expanded our localised operations to multiple countries and with an amazing team of people all around the globe, we have gone truly global.
We live in a digital era, one which is driven by experiences. Failure to provide a great experience to your customers can be detrimental to your business. Consumer expectations are constantly evolving, so can you explain to our readers how reshaping your marketing strategy paid dividends for you?
Despite the turbulent social and business climates due to the ongoing pandemic, SHAREit surpassed several milestones last year, overcoming various challenges along the way.
The platform is now well-positioned to enjoy sustained success over the coming 12 months and beyond, driven by its vision to eliminate digital content limitations, meet user requirements, and make an impact in emerging markets.
In 2020, SHAREit didn't just prove its ability and utility as a product to the end user but also rose to prominence for its high impact advertising power. SHAREit was recognised as the world's fastest growing media publisher – ranking #1 in the H1 2020 AppsFlyer Performance Index.
The platform surpassed 500 million monthly active users (MAU) globally, 70 million in the Middle East, and recorded a growth rate of 160% in app installs between January and June – claiming the top spot in the Middle East and Southeast Asia.
Additionally, SHAREit was accredited as the 2nd top SEA headquartered media publisher worldwide by downloads. In order to help brands' grow, a local team was also established for client servicing purposes across the region and a new office opened in Dubai, while expansion into Turkey, Israel, and Europe was successful in each market. Meanwhile, SHAREit has witnessed a growth in advertisers across categories like food, video/music, e-commerce, gaming and fintech segments.
SHAREit has enjoyed phenomenal success since its inception, and categorises itself as a global gaming, file sharing and content streaming application, but which one of these business verticals is your most important and profitable segment?
Our business is an integrated business as we look into the all-around digital content needs of our users. While enabling our users with faster and safer sharing of files has always been our top priority, our game centre has witnessed a huge surge in the last two years especially after the outbreak of COVID-19.
Our users are spending higher time on the app playing games online and this has driven higher revenues for us across emerging markets like Southeast Asia and Middle East & North Africa.
As aforementioned above, you've enjoyed incredible success, but what is it in your opinion that differentiates your company from your market rivals?
SHAREit started off as a peer to peer file transfer application and revolutionised the space forever. It wasn't long before it grew into the entertainment and gaming space.
Now, SHAREit is an all in one content platform streaming local digital content such as short videos, gaming and much more. Now, we march towards our vision to democratise digital content and make it accessible to everyone around the planet. The one thing which differentiates us from other companies is our vision to provide digital content to all and everywhere.
So, we don't see ourselves competing with other applications. Instead, we are open to be partners with as many as possible who want to explore, leverage and grow using SHAREit's diverse and growing user base.
2020 was a year none of us will ever forget, but there is renewed optimism in 2021, especially since the introduction of a vaccine to fightback against COVID, what are your main goals and objectives for the next 12 months?
There's always light at the end of the tunnel and firstly we're definitely going to fight back COVID-19 and return to normalcy. Being a user centric company, our goals and priorities have always been influenced by our 1.8 billion strong SHAREit family.
As we go ahead, we would like to strengthen our proficiency as a one stop content platform which would answer all the content needs of our users in their vernacular or their preferred language.
In addition to this, our passion to grow brands never dies as we would continue to help brands grow and fulfill their various marketing objectives with our differentiated high impact advertising solutions. The future is digital and mobile, we would like to be a part of it and grow as well as accelerate the trend by helping companies drive hyper growth for their digital and mobile businesses.