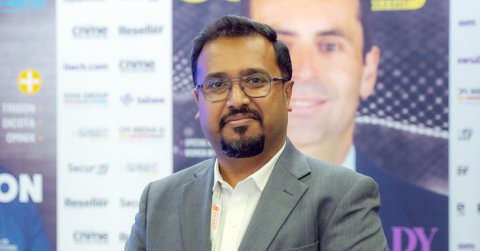 Sujoy Banerjee, Associate Director, Sales & Business Development-UAE at ManageEngine, on why GISEC is an important platform to discover the latest security trends and how ManageEngine helps businesses stay ahead of the rapidly evolving and complicated threat landscape.
GISEC 2023
This is the 10th year that Manage Engine is participating at GISEC.  The first time we took part in the show was in 2013. This is an important show for the whole region and we get an invaluable opportunity to showcase our product range, learn from experts and also interact with visitors and hear about different visions and perspectives for and about the market. The event is 'trendy' and is a great platform to discover new trends and explore global practices. This helps go back and work on our products so that they continue to maintain their cutting-edge. The digital ecosystem is fast evolving due to technological advancements. But so are the threat actors. Unsurprisingly, cybersecurity remains the top priority for CIOs and CISOs in the region. Organisations should focus on identifying high-risk vulnerabilities and address them immediately. GISEC offers us a great platform to showcase our powerful cybersecurity capabilities and help address the security concerns of organisations,
ManageEngine will showcase all its security offerings at GISEC, including its SIEM solution, Log360, to which a security and risk posture management dashboard was recently added. This new feature offers granular visibility into weak and risky security configurations of systems and users. It also continuously assesses the Active Directory security risk posture based on Microsoft's security guidelines. These security and risk posture management features will help enterprises implement a proactive security strategy and prevent cyberattacks before they occur.at GISEC. In addition, ManageEngine will showcase PAM360, its privileged access management solution, which now features advanced privilege elevation capabilities for Linux environments—in addition to its already extensive PEDM capabilities for Windows environments—and the SSH Command Control feature.
Other ManageEngine solutions covering endpoint security, data security and network security will also be highlighted at the event. Cybersecurity experts will be available to interact with attendees, address their IT security concerns and share insights on the latest security trends at booth number D 60. Demonstrations will also be held at the booth to offer a first-hand experience of the company's security solutions.
Plans for the region
We have plans to enhance our product portfolio since we have the maximum enterprise customers in this region. A key feature of enterprise customers is their need for ease, convenience and maximum product utilisation. So, our plans for this region include enhancing our product capabilities and also to integrate them, since we have customers using several of our products at the same time. So, we'd like to give them a single vendor point of contact and help them in their day-to-day activities.
Cybersecurity-threat trends
The threat-security landscape is changing and we're facing new and more complicated threats everyday. The first one I'd like to mention is the 'ransomcloud'-it's no longer ransomware, and it's getting bigger. A recent survey says ransomware could cost around USD 265 million and attackers are looking for more and more vulnerabilities. This trend is likely to grow, with people becoming increasingly dependent on IoT, wearables and smart gadgets.
A security trend that's becoming increasingly popular is Zero Trust, which is now no longer an option but a top priority. Two years ago, businesses were still toying around with Zero Trust, but today, it is absolutely essential for security.