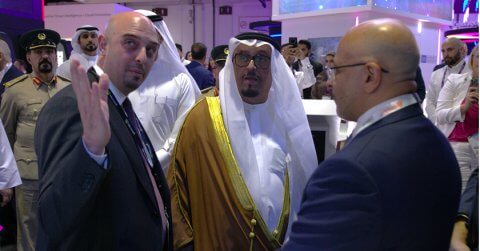 Microsoft today brought a message of collaboration and resilience to GISEC 2023, where the company participated as a Strategic Partner and staged a headline showcase that has the potential to revolutionise policing.
"Microsoft Security recently surpassed a US$20-billion revenue milestone – the clearest signal yet that we are on the right track in protecting our customers from cyberthreats", said Naim Yazbeck, General Manager of Microsoft UAE. "We treat security as a team sport, which has become even more important as we embrace the world of hybrid work. In the latter half of 2022, we launched more than 300 product innovations to help organisations stay ahead of evolving threats".
This year at GISEC, Microsoft will be showcasing innovative mixed reality experiences using HoloLens 2 that are powered by the reliability, scalability and most importantly security of Microsoft Azure. Mixed reality is a blend of the physical world and digital world, where digital information is represented by holograms that through AI respond to commands and interact with real-world surfaces in real-time. Together with DXC Technology, Microsoft will unlock the potential of the industrial metaverse using Mixed Reality, IoT and AI and deliver a modern approach to crime scene investigation through data forensics and incident response.
Visitors will be immersed in a crime scene investigation demo and take the role of law-enforcement officers. This simulated experience will showcase how to place virtual markers, trace 3D objects, gather multimedia evidence and virtually transport back to the scene at any time to boost collaboration and case outcomes.
"Microsoft's security solutions ecosystem, which includes our more than 15,000 trusted partners, touches on a broad range of use cases, including modern policing", Yazbeck added. "Our security capabilities have expanded to synthesise 65 trillion signals a day, across device types, apps, and platforms. That gives us unparalleled visibility of the threat landscape. We shall continue to leverage that visibility to protect our customers. GISEC is the ideal platform for us to demonstrate those capabilities and to assure our customers that together we can deliver resilience and safety for all our digital estates".
Microsoft will exhibit with ten partners at GISEC 2023: Help AG, Bespin, Wipro, BPS, Rubrik, Celebal Technoliges, Techvista, HyperNym, F5, Paramount.
At GISEC 2023, Microsoft is exhibiting from Stand C75.