Timofey Matrenitsky, Head of the Guardant Branch, Aktiv, talks about the importance security technologies have on wider society, representing the Russian security sector at GITEX 2021 and how they plan to offer unique benefits for UAE Partners.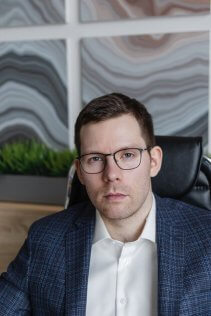 Q1. You represent the Russian information security sector at Gitex Technology 2021. Why are information security technologies so important for society today and why is it so important for world countries to share them?
General global digitalisation is gradually leading to the fact that the world is becoming a single information space with very indistinct boundaries. In addition to new opportunities for international business and society as a whole, this IT transformation inevitably generates new risks associated with information security.
The protection of the global digital space should be built according to the same technological approaches and principles. However, many countries today report a shortage of qualified specialists in the field of information security and complain about the corresponding difficulties in finding and applying modern security solutions.
Therefore, representatives of different countries should help each other master new technologies and create complex platform solutions. It is well known, that Russia has one of the world's strongest information security industries. It occupies a leading position in the field of IT system and critical infrastructure protection, as well as in many others, in both public and private sectors. In addition, Russia can boast a rare highly competent workforce, a developed IT market and a whole range of strong private companies with their own unique technologies and products that surpass world analogues.
Q2. What makes you unique for your UAE partners? What do you expect from Gitex?
We expect that our information security solutions and technology stack will be in demand abroad. Our main advantage in comparison with the products of global players is high adaptability to various needs and tasks. In Russia, for example, international IT giants involved in the information security industry are simply leaving the market today. Their solutions turned out to be unable to meet the requirements of local customers, and these companies are simply not ready to adapt and make necessary improvements for local markets.
On the opposite, we adhere to the position of technological openness. We are ready to share technologies, competencies and expertise with our partners, and create joint solutions taking into account local specifics and requirements of a particular market. This is why we came to Gitex!