By Reem Asaad, Vice President, Cisco Middle East and Africa.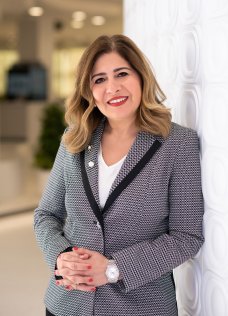 The approach employees and organisations now take towards work has changed and continues to evolve in different ways. As entire industries shifted towards a remote working model during the pandemic new challenges arose that were solved by innovative technological solutions with Cisco at the forefront. Now as the world enters a new phase with many countries slowly returning to some form of normalcy, the need for businesses to be flexible is essential. Flexibility is crucial in the era of hybrid work and organisations must ensure their solutions are agile, inclusive, supportive, secure and can be easily managed by IT teams.
Cisco is firmly committed to support customers and partners as they navigate this new normal in a way that empowers them to achieve their full potential as they switch from the old world of remote work towards hybrid work. The dramatic changes to work methods pre-pandemic and during the pandemic will continue into the next wave of work and Cisco's range of collaboration tools for business can help.
To help organisations develop effective and sustainable hybrid work roadmaps, Cisco has come up with five essential elements that should be in place for this switch to be successful.
Flexible: People want flexibility in how, where, and when they work. That means the solution should adapt to any kind of communication and interaction your team needs – from a simple phone call to the largest meeting or event. It should enable employees to work with people inside and outside an organisation with all users and functions and with the tools they require such as cloud calling and other collaboration platforms.
Inclusive: Hybrid work makes inclusivity more difficult compared with all remote or all in office work. Cisco advises providing equal experiences for everyone, wherever they are by enabling people to communicate regardless of their native language or location while also allowing people to communicate non-verbally with ease. Every employee in a hybrid meeting must feel like an equal participant to avoid remote participants becoming isolated or marginalised.
Supportive: Employees require empathy for their health and well-being. Many people are feeling burned out from virtual work and may be anxious about returning to the office. The solution should provide capabilities to reduce employee fatigue and keep them focused with a healthy workplace for a safe return to the office.
Secure: Hybrid work creates potential gaps in security. People are now working from everywhere and therefore the risk surface and threats have expanded. Built-in security is critical, it should not be bolted on and must also honor an individual's privacy by default.
Managed: Hybrid work increases complexity for IT teams that must not only provide performance and quality for the main office or campus, but for all home offices and remote work locations too. Therefore, frictionless administration of the entire environment is necessary for software, hardware, and facilities – with real-time insights to ensure the best experience for users. This solution must also be built with a modern cloud infrastructure that is optimised for the media and bandwidth demands of hybrid work, because every meeting now requires video.
Cisco is supporting organisations as they transition towards hybrid working through its Webex suite of innovative digital workplace solutions. The platform has a new look and feel and supports hybrid collaboration at 40 percent lower than a-la-carte options. It integrates Slido's audience engagement capabilities and will soon feature Socio's hybrid event management tools, which will provide the most comprehensive events platform for any physical, virtual or hybrid event. With 98 percent of future meeting experiences and conferencing expected to include at least one remote participant, these technologies are set to play a much larger role across all industries. Customers and partners will also benefit from Cisco's new audience interaction tools to develop greater audience engagement; audio intelligence to improve audio quality during video calls and audio conferencing; camera intelligence, which employs AI to individually re-frame meeting participants for an immersive video experience; and Webex Desk – a powerful all-in-one collaboration device designed for the desk at work or home. All of these innovations are built upon Cisco's secure experience which automatically blocks and removes confidential information and will now be available in Messaging.