CNME Editor Mark Forker spoke to Hailey Yoon, Co-Founder and CTO of Dubai-based tech firm I021, in the latest series of our Women in Tech spotlight features, to find out how she is helping to break down outdated stereotypes for women in STEM positions, and how she is inspiring the next-generation to choose IT as their profession.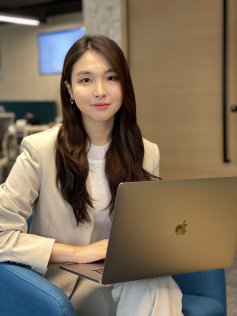 Typically, this segment of the magazine has profiled female executives who have enjoyed a long and distinguished career in the industry.
However, our focus in July's edition of CNME, is on Hailey Yoon, who despite being just 25 years-old, has already achieved so much in the IT and technology ecosystem here in the Middle East.
In addition to being the co-founder of a thriving tech boutique in the UAE, Yoon is also a part-time student at the fabled Stanford University, where she is completing a postgraduate in Artificial Intelligence.
We began our conversation by focusing on I021, the company co-founded by Yoon, to learn more about the services it provides, and the rapid expansion it has undergone.
1021's initial vision was to provide one SaaS product, but we started getting inquiries if we could help in different software development projects and quickly acquired a lot of clients, and before I knew it, we had grown into a tech firm! Our focus at the start was on software development, so essentially things like mobile applications and website development, but recently we expanded our portfolio to include technology consultation," said Yoon.
I021 works with a very broad and diverse range of clients, and as Yoon points out they have also started to switch their focus on next-gen technologies such as AI and blockchain.
"We are engaged with a wide-range of clients spanning from small startup companies all the way to publicly listed companies, but typically we provide software technology solutions in relation to development primarily, whilst we also recently became involved in blockchain development in AI and ML solutions. One other aspect of our business model is to assist clients looking to upgrade their software and enhance their legacy architecture to make it ready for the new demands of the digital economy", said Yoon.
The IT industry is saturated, and it can be a difficult environment to secure clients and market share, but I021 has been able to establish itself as a leading solutions provider despite being a nascent company, but what differentiates them for their market rivals?
"What our clients really like about us, is the fact that we do not compromise speed over quality. We know that sometimes you will have companies build you something in a week, but the quality would not meet the expectations, but what we provide and propose is that we can build things very fast, but the quality comes with it. It is also important to point out that we are also a small boutique tech firm, so our clients are not one of many, but instead the client, in which we use all our best resources on, and that customer-centric approach is a key differentiator for us in the market. Transparency is also a key principle for us, sometimes we will tell clients we cannot take on their project right now, as we have too many other projects ongoing, but on this specific date we can take on the project and make our best resources available to you to help you deliver the results that you want", said Yoon.
Traditionally, the IT industry has been a male-dominated environment, and whilst strides have been made over the years, the disparity remains. As a young woman that is having a huge impact on the sector, Yoon is perfectly placed to share her experiences, and what she thinks the industry needs to do to reverse this trend, and how it can promote greater inclusion and encourage more women to work in the STEM field.
"It's been very challenging in many ways, and especially in the Middle East, as there are not many female software engineers. I think there is a lack of awareness in the tech industry, although it is slowly growing. I have attended many meetings as a software engineer, and very often I will be mistaken for someone that is in a secretarial, or administrative role, and one time I was asked to go and make coffee! Sometimes unexpected comments can discourage you, and it certainly can be challenging at times to break down outdated stereotypes", said Yoon.
Unsurprisingly, considering some of her experiences, Yoon is keen to position I021 as being a champion for women empowerment in the IT industry, and highlighted some of the initiatives she is helping to spearhead.
"We are very proactive in terms of women empowerment in terms of mentoring college students. I am a mentor at NYU in Manhattan, for women in computing. They ask me about my experiences – and come to me for advice in relation to certain issues that they have encountered in the field. It might not always be the best solution, but I try to steer them away from making the same mistakes I did, and it is important that we can come together and talk openly about the issues we have faced, to determine what steps to take to overcome adversities", said Yoon.
In terms of its growth strategy for the future, Yoon stated that their focus will remain on disruptive technologies that are transforming industries.
"As a company we will focus on AI and blockchain, because security has become one of the biggest concerns for companies in light of the recent ransomware attacks that we have witnessed. The fact of the matter is the more online users we have, the more security breaches there will be, so it imperative that enterprises protect their assets. We want to solve these security problems by leveraging existing tools like AI and blockchain to make companies more resilient and better protected", said Yoon.
Yoon's startup I021 has been selected as a finalist for the Women Tech Founders Program in the Middle East and North Africa.  The U.S. Department of State, through the Providing Opportunities for Women's Economic Rise (POWER) initiative and Embassy Abu Dhabi, has partnered with Google's Women Techmakers to host the Women Tech Founders Program.
Yoon expressed her delight at being chosen as a finalist for the program.
"I am thrilled that IO21 has been selected as a finalist for the Women Tech Founders Program in the Middle East and North Africa, and am honored to be a part of this meaningful initiative of empowering and supporting women in tech. I'm looking forward to the training sessions conducted by Google experts and to connect with other women tech entrepreneurs from across the region and the U.S", concluded Yoon.
Yoon, is certainly a driven and ambitious individual, and has already achieved so much, but she is hell bent on breaking down those gender barriers that still exist for women in IT, especially here in the Middle East – one thing is for sure and that is we will be hearing a lot more about Hailey Yoon.