Chris Cooper, General Manager Data Centre Group, Middle East & Africa, Lenovo, outlines to CNME Editor Mark Forker, how the future of enterprise data will be generated at the edge – and the role the global technology leader is playing in this space with its broad portfolio of solutions.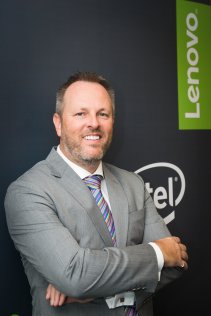 Chris Cooper is regarded as one of the most prominent and innovative thought leaders in the IT ecosystem here in the Middle East, and under his vision and direction, Lenovo has become the partner of choice for enterprises seeking to execute their digital transformation goals.
However, as Cooper highlighted in a candid interview with CNME, he believed like many of his peers that when the COVID-19 pandemic struck it would serve as a temporary death knell for digital transformation.
"During the pandemic many of us thought that digital transformation would grind to a shuddering halt, but frankly speaking it has accelerated. That has clearly had an impact in terms of hybrid cloud and there have also been challenges accessing data centres. One key consequence of this changing landscape has been the vast explosion of new data, and Gartner is predicting that by 2025, 75% of enterprise generated data will be processed towards the edge", said Cooper.
Cooper added that if you examine those predictions from Gartner, then 50% of enterprise data will be generated at the edge by 2022, which is in less than 12 months.
"I believe that the findings from Gartner indicate that there is a real definitive requirement now for edge computing. I believe what we are seeing now is the beginning of that. You have the traditional data centre business, cloud business and hyper-scalers, but more and more data is being generated outside of those environments at the edge – and then is being backhauled into those environments, and that's why we are looking at a combination of edge to core and edge to cloud", said Cooper.
The dynamic Lenovo executive also pointed to the growing use of AI that is also happening at the edge, but firmly believes that Lenovo's robust and diverse offerings in terms of edge computing gives them a great advantage – and is a key differentiator over their market rivals.
"When you look at our edge computing, we can run GPUs in there, so we can do AI at the edge. If you look at some of the key ISPs that are driving in this space, we are the only supplier and manufacturer that can deliver Microsoft Azure at the edge today. We build those appliances for Microsoft, so they can run Azure outside the data centre at the edge", said Cooper.
According to Cooper, there are very few providers of what he describes as true edge computing – but conceded that one of the biggest concerns for customers in relation to IoT and edge is security.
"If you take some of the new technologies that is required to drive out the whole focus on digital transformation and intelligent transformations then you are talking about 5G, edge, AI, and blockchain. However, at the end of the day one of the biggest concerns is security, because what we are now talking about is having physical infrastructure outside of a data centre, so it is not on your site, it is not in a secure data centre. If you talk to customers about IoT or edge, the biggest issue they have is with security", said Cooper.
5G is a technology that has consumed many column inches in technology and business publications over the last number of years, but as Cooper points out, there are many misconceptions amongst the public as to what 5G has been created for.
"5G as a technology was not developed for streaming video content on your smartphone device. It was specifically designed for industrial IoT applications, and the reason being is, if you think' about the manufacturing environment people would use Wi-Fi for connecting infrastructure, but Wi-Fi is not a highly secure network. As you move towards LTE, 4G and 5G, it is a much more secure network. There is almost this view that edge computing is expanding out the entry points for cyberthreats, but at the same you are moving from more of a Wi-Fi environment to an LTE, 4G, 5G environment, which is inherently much more secure", said Cooper.
In addition to this, he added that the other challenge from ISPs putting out 5G infrastructure is that the costs are excessive.
"Network operators are now working with the likes of Lenovo to look at how they can build new revenue models and create new opportunities where they can get new revenue streams to fund that 5G network. As you migrate from 3G, 4G and 5G, the bandwidth of that wave is getting smaller, that means it travels a shorter distance, which requires the need for your base stations to be much closer together, but that also results in the need for extra base stations to support your 5G network. Operators are now looking at industries and are working out how they can turn that into a business opportunity, and we are helping them with that as we have the infrastructure, so we are working closely with the ISPs to deliver those solutions", said Cooper.
The latest data from IDC has illustrated that Lenovo has strengthened its grip on the UAE's x86 server market, and Cooper explains how the IT leader has been able to solidify its position.
"Our success is based upon a number of factors, one of which is customer centricity. We spend our time talking to end-user customers to really try and understand what are the business issues they are facing? Once we determine what those issues are, we can put together the right solution for that customer. Secondly, we sell 100% through the channel, and we embrace the channel, we are not like other vendors that flip-flop between channel and direct. We have a very simple philosophy and that is we are 100% channel, we live or die by the channel", said Cooper.
In addition to this, Lenovo's ability to be agnostic is also a key differentiator that has contributed to their phenomenal success.
"We can architect the right solution that is tailored specifically for our customers, whereas most of our competitors if you are looking at a hyperconverged platform, have their own in-house offering and they will focus on that for a customer. The benefit of Lenovo is we can be agnostic and approach the customer to find out what the right solution for them is in that environment", said Cooper.
One of the most tangible examples of the impact COVID-19 has had on our day-to-day lives has been the transformation of the workplace. Cooper gave his overview on how Lenovo adapted throughout the crisis, and what the future of Workplace 2.0 looks like.
"I don't have a crystal ball, but the pandemic is still here, and we are still in the grips of the global health crisis, and no one really knows when we are going to come out the other side. We have seen a massive transition and transformation in our business, and those of our customers and partners. The first thing we experienced was that customers could not get access to the data centres.  Everyone had challenges getting infrastructure into the country, but one of the benefits we had at Lenovo was the fact we own our own manufacturing globally. The benefit of that compared to our competitors is that they are generally very reliant on OEMs. We have global relationships with the component manufacturers, so we are in a much stronger position to service our customers and deliver on time in these challenging environments. People are starting to return to the workplace, and we are seeing a continuation of digital transformation, and more interest and understanding as to how we access data and manage it remotely with edge computing, so there is a lot going on, and the future remains unpredictable, but the future for Lenovo holds great promise", concluded Cooper.