The advantages of all-flash storage and why Huawei OceanStor all-flash storage is an ideal choice for mission-critical business.
Applications of flash storage are poised for explosive growth, thanks to increasingly lower-priced and higher-capacity SSDs. In fact, the newest generation of 3D NAND flash technology has now reduced the cost of a single SSD to less than $1 per GB.
As a result, more and more users are using all-flash arrays to build their own data centers. All-flash storage is expected to account for nearly 30 percent of storage in data centers in 2018, according to third-party authorities.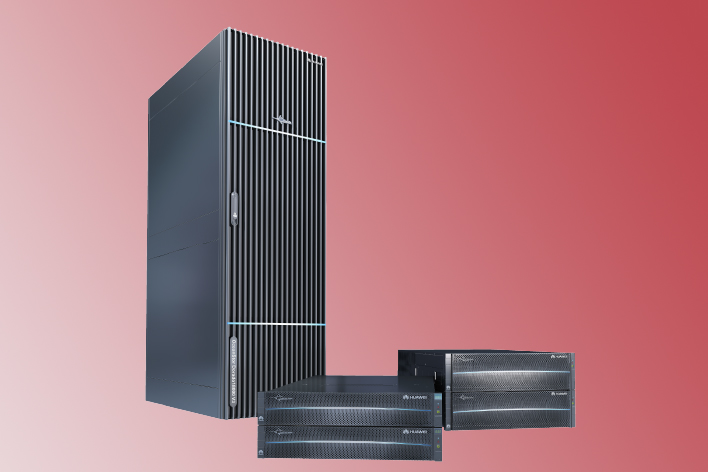 All-flash storage benefits IT systems in many ways:
It improves user experience. All-flash storage can quickly respond to service requests. For example, in the securities industry, all-flash storage enables traders to smoothly process online transactions. In the medical industry, registration, diagnosis, and treatment can be quickly coordinated, and patient information can be swiftly retrieved from the hospital IT system.
It reduces O&M costs. Traditional storage systems need dozens of disk cabinets and tens of thousands of HDDs to meet performance requirements. Now, the required performance can be delivered using just a few all-flash cabinets. This significantly reduces procurement costs, power consumption, space requirements, and maintenance manpower, all while slashing OPEX by more than 75 percent.
It supports discovery of new business opportunities. For example, consider a cloud service provider that uses the original IT architecture and provides only gold, silver, and copper services. All-flash storage could help that service provider provide a platinum cloud space leasing service with higher performance and lower latency. Deduplication and compression make the provider's services even more commercially competitive.
Considering the massive potential impact on your business, the decision to build an all-flash data centre should not be taken lightly. All-flash storage vendors will often push for you to make the switch without giving you the full story. When the time comes to make the switch to all-flash, here are three crucial points to keep in mind:
Hardware architecture should offer large capacity and efficient data exchange
In the past 10 years, SSD performance has seen a 4000-fold improvement, but CPU performance is only about 20 times better. The bottleneck at data centres lies in CPU usage, because it reaches 90 percent or higher when only a dozen disks are used. To get the most out of SSD performance, the latest CPU must be used to meet business requirements. This is especially true for front-end financial transactions, carrier CRM, billing, and any core business with high storage performance demands. Only with the right all-flash hardware architecture can these needs be met.
The use of SSDs drives demand for larger cache capacity. Data on SSDs is scattered all over the place. As a result, corresponding metadata increases as storage data grows. In particular, after deduplication and compression are enabled, metadata must be frequently invoked and fingerprints must be compared before data is flushed. In the cache, more and more metadata is stored. Therefore, every all-flash array must offer a cache with large capacity.
High-speed interconnection between controllers is also necessary. Data exchange channels must be efficient enough for all-flash storage to be fully utilised in the multi-controller layout. Therefore, most storage controllers are interconnected using PCIe 3.0 to improve switching bandwidth.
All-flash data centres need software architecture designed for all-flash storage
Your software architecture cannot be wasting SSDs at places such as protocol parsing, data flushing, and space reclamation. In addition, to maximise SSD performance, read and write I/Os must have the highest priority in obtaining resources.
All-flash storage requires end-to-end all-flash architecture design, including flash-oriented CPU multi-core optimisation, cache-adaptive algorithms, link transmission optimisation, SSD scheduling algorithms, and drive optimisation. Without these elements, in-depth software-hardware integration is out of the question. Proper all-flash software architecture allows storage controllers to intelligently sense each SSD's data layout, enables both controllers and SSDs to adjust data layouts and I/O priorities as needed, and leverages disk and controller algorithms to deliver optimal performance.
In addition to SSD performance, the cost effectiveness of deduplication and compression must be considered. Deduplication and compression greatly reduce the amount of physical storage space needed, and alleviate investment, environment, and maintenance pressures. Deduplication and compression can also effectively reduce the number of write times and amounts of data written to hosts, prolonging the service life of SSDs and protecting customer investments.
Strong security and reliability are critical to centralised data access
With all-flash storage, performance is 10 times better than with HDD-based storage. This means that a single all-flash storage system can host many more services, such as CRM systems, billing systems, B2B reselling, server virtualisation, and office systems.
Vendors have their own ways of ensuring high system reliability. Some vendors improve their underlying algorithms, some use multi-controller redundancy architecture, and some leverage active-active or geo-redundant DR solutions. It can be challenging to evaluate a vendor's approach to ensuring reliability, but the key factors are as follows.
First, check whether underlying virtualisation technology is used and whether physical disks can be logically scattered and effectively organised. These features prevent the permanent data loss that can be caused by time-consuming data reconstruction using traditional RAID groups. Underlying virtualisation technology enables all disks in the disk group to simultaneously reconstruct data if one disk is faulty, instead of reconstructing data on a single hot spare disk. This dramatically shortens reconstruction time. Huawei is capable of offering this technology. Huawei's all-flash storage can reconstruct 1 TB of capacity in just 30 minutes. That's 10 times faster than traditional storage.
Next, check whether the architecture can provide multi-controller redundancy. In other words, if multiple controllers on a single engine fail, can service continuity be ensured? Huawei can currently offer this ability.
Last but not least, check whether the active-active solution is simple and reliable:
Is the gateway-free SAN and NAS integration mode used? This mode can reduce faults and latency while cutting procurement costs.
Does the solution enable access in active-active mode, rather than active-passive mode? This mode can implement rapid site failovers and achieve RTO ≈ 0, and RPO = 0.
Is a simple networking mode adopted? IP or FC networking can be used to meet the requirements of different users. Huawei can implement this architecture.
The ideal choice for mission-critical business
Considering hardware architecture, software architecture, and reliability, there is only one solution available that checks all the boxes: Huawei OceanStor all-flash storage.
A storage system specially designed for flash storage, OceanStor boasts both industry-leading reliability and superior performance. Equipped with SmartMatrix 2.0 (enhanced intelligent switching matrix), this storage system features full redundancy with 4 controllers in a single engine. In addition, the gateway-free HyperMetro-based (active-active) solution ensures 24/7 uninterrupted services for users and ensures a latency of less than 1 millisecond. With OceanStor, you can rest assured that your data centre is supported by the best in the industry.