CNME Editor Mark Forker secured an exclusive interview with Dr. Abeer Shakweer, Assistant Resident Representative, Inclusive Growth and Innovation Team Leader, UNDP Office, Egypt, to find out more about the key role she is playing in terms of making digital transformation accessible to all segments of society in Egypt.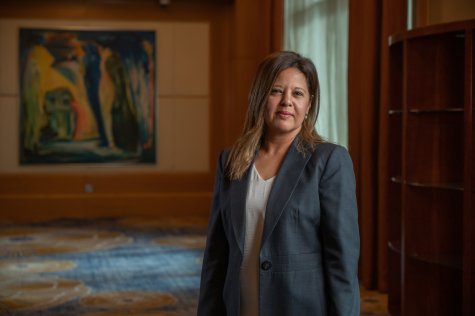 Dr. Abeer Shakweer has enjoyed a distinguished career in ICT, and prior to her current role with the UNDP Office, Egypt, she spent eight years working with the Ministry of Telecoms in the country. She said that her current position at UNDP involves the continuation of many projects that she was working on with the Ministry, and in many ways is an extension of her previous role, but on a larger scale.
"My primary role at the Ministry of Telecoms was to utilise technology and make it accessible for marginalised groups. When I moved to the UNDP, I was tasked with the responsibility of driving digital transformation, but one of the core pillars of that digital transformation was developing an inclusive growth and innovation portfolio. At UNDP, we are also focused on leveraging technology to accelerate sustainable development. I am still working closely with the Ministry of Telecoms through seven projects that are running in parallel between the UNDP and the Ministry of Communications and IT, and those projects have been specifically designed to drive digital transformation in areas such as human resources, regulatory frameworks, and inclusion through disruptive technologies to ensure that we create an efficient and robust infrastructure for digital transformation, so in many ways I am continuing what I was working on when I was at the Ministry, but perhaps on a larger scale", said Shakweer.
Shakweer highlighted that digital transformation is a key priority for the Egyptian government but caveated that many challenges are preventing them for delivering a digital transformation experience that is inclusive for all its citizens.
"Digital transformation is top of the agenda for the Egyptian government, and they are performing reasonably well in terms of providing better digital governmental services to citizens. However, there remains a number of challenges, such as the regulatory framework, which is not designed to enable services such as digital identity programs and electronic signatures, so the regulatory framework needs to be adapted in order to deliver digital transformation that is effective and efficient", said Shakweer.
Inclusivity is close to her heart, and one other key challenge in Egypt according to Dr. Shakweer is that many citizens are excluded from tapping into and unlocking the benefits provided by digital technologies through digital literacy and poor infrastructure.
"Digital literacy is a big problem in Egypt, especially outside of the capital and in other major cities. This needs to be addressed if we want to enable these citizens to fully benefit from the digital transformation initiative that the government is pursuing. Inclusion is another challenge, but when I use the term inclusion, I am not only talking about gender, or a lack of accessibility for those in rural areas, but instead those that have disabilities, or refugees and asylum seekers that are disconnected from digital services, these are segments of our society that need special attention and need to be included in our nationwide digital transformation agenda", said Shakweer.
Shakweer stressed that the government were aware of these issues and are moving quickly to address them, adding that ICT professionals also required support if they want to execute their digital transformation goals.
"UNDP are pushing in the direction of inclusive digital transformation and building the capacity, not only for the citizens, but also for the professionals in the field of ICT, because if we want to leapfrog and accelerate digital transformation then we need to have qualified human resources", said Shakweer.
Shakweer said that at the onset of the COVID-19 pandemic the UNDP immediately started supporting the government in terms of their response to startups and SMEs.
"We partnered with SMEs to upgrade the marketplace and enhance its efficiency, whilst we also provided e-learning materials to the companies to know how to effectively use the platform and how to access existing and new markets. We needed to help them maintain business continuity and they had to embrace new technologies and e-commerce to allow this to happen. We are also continuing to work with SMEs to provide them with cloud-based services and automation as part of an effort to create a one-stop shop. It is a very broad vision designed to support the digitalisation of SMEs", said Shakweer.
The Assistant Resident Representative at the UNDP Office in Egypt also disclosed that they partnered with the Ministry of Health to support them through the development of their chatbot that gave the public information and guidance on COVID-19.
"We were acutely aware that some segments of our society would not have access to such information. So, what we did was collaborate with the Ministry of Communications and IT, and Avaya to create a chatbot that gives information and guidance to persons with hearing disabilities because they are one of the most excluded groups during a crisis. This chatbot relays the same information given to the public, but in sign language", said Shakweer.
She concluded a wonderful discussion by revealing that their primary aims will be to deliver greater digitalisation for SMEs and a digital transformation agenda that includes everyone regardless of their socioeconomic situation.
"Our primary focus now is on the digitalisation of SMEs because they are the backbone of the economy. However, we are also aware that with the advancement in digital technologies there will be certain segments of our society that will be totally excluded from this. Digital transformation needs to be accessible for everyone in our society", concluded Shakweer.