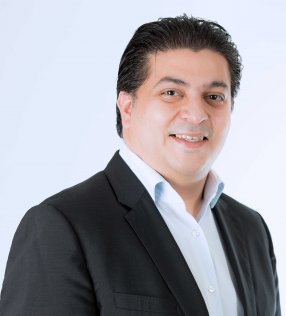 Sharay Shams, General Manager at Motorola Middle East sheds light on the key strategies which have led to the company's rapid growth and shares Motorola's regional success, alongside current trends within the smartphone industry.
There is no doubt that the smartphone industry is becoming increasingly saturated – forcing original equipment manufacturers (OEM) to rethink how we can differentiate and illustrate value. The past few years have proven to be critical for Motorola, as we worked to revise our strategies and realign business priorities to create a more appealing offering to consumers and in turn, a profitable business model.
Keeping innovation at the forefront
We were proud to reveal earlier this year that Lenovo's Mobile Business Group (MBG) had achieved a staggering 86% year-on-year growth, a record high since the acquisition of Motorola. Integral to achieving this has been our focus on streamlining our portfolio, taking onboard consumer feedback, and doubling down on quality of product and service. From the launch of the RAZR in 2004 and its later reimagining with the RAZR 5G, to the introduction of the first 5G ready smartphone in 2019, our history of being at the forefront of pivotal moments in time is at the core of the Motorola brand and key in our approach.
Creating technology that is accessible to all
Another significant contributor towards our growth has been our dedication to inclusivity. Motorola is committed to providing people with access to displays, cameras and batteries that are innovative and stylish, while also being affordable. In 2013, we introduced our most-loved and best-selling franchise to date – the moto G family. We saw that there was gap in the market, and we took this as an opportunity to create what is now considered to be the mid-tier smartphone segment.
At the beginning of the year, Motorola introduced the moto g 5G to the local marketplace – the most affordable 5G-enabled smartphone in the UAE at 899 AED. It was also the first device in the region to feature a Qualcomm Snapdragon 750G 5G processor – ideal for speed and immersive gaming. In March, we launched the moto g30 in the UAE, a smartphone with a 64 MP ultra-high resolution quad camera system for 699 AED. The moto g30 offers up to two days of battery life on a single charge and can regain 12 hours of power in just 20 minutes of charging. We also made sure to focus on the display and creating a seamless experience – with a 90Hz refresh rate – usually reserved for flagship phones. Since the inception of the moto g series, Motorola has become a leader in the mid-tier space – within this series, we have now officially shipped over 125 million units worldwide.
Convenience and superior customer experience for local consumers
Focusing on the local market, we also made the decision to launch our first e-commerce site in the Middle East this year. At motorola.ae, consumers in the UAE can purchase exclusive Motorola devices and accessories, avail promotions and keep up to date with the product announcements.
Across every device and product line, we are integrating customisable features unique to Motorola devices, such as the recently launched My UX platform, which lets users take music, videos, and games to the next level with custom settings and advanced controls. Motorola users can even create their own device themes by choosing from unique fonts, colors, icon shapes and fingerprint sensor animations.
Three key market shifts and takeaways every manufacturer must consider:
Smartphones are becoming increasingly sophisticated, interacting even more with the world around us
Human behavior changed significantly in 2020 – and the desire for connectivity and accessibility has never been more apparent. This change is acting as a catalyst for smartphone innovation, one that goes beyond the traditional capabilities. With improved connectivity and speed, thanks to 5G and more responsive processors – our smartphones will start to play a more central role in keeping us connected. Improvements will enable our smartphone to interact with the devices around us more efficiently – transforming our devices into game consoles and even extensions of our desktops.
Demand for technologies that deliver a specific type of experience is increasing
As consumers continue to demand products that not only keep up with their busy lifestyles but also solve their specific challenges and needs, we are starting to see an increased focus from OEMs on bringing devices to market that can cater to all types of consumers. We have already seen a strong industry focus on gaming devices. This trend is now stemming further afield into other specific areas of need, such as professional-grade photography features for content creators, durability and convenience specs for more active consumers, and even more portable and flexible devices. Consumers will continue to seek solutions that offer portability, but that do not compromise on the intelligence and functionality that comes with a larger display.
Virtual and augmented reality is now expanding to shopping
Virtual and augmented reality (VR/AR) solutions are expanding beyond gaming and education use cases and into the shopping segment. While last year was unique in that consumers had to take a step back from in-person shopping, due to COVID-19, we believe that this trend will continue as a result of the convenience virtual experiences provide. We are already starting to see consumers use VR/AR to test out products, try on a new outfit and even design their living spaces all from the comfort of their homes. Shopping or testing out a potential new product will no longer require having to physically touch the products – and manufacturers will need to find ways to make their experiences as realistic as possible, which will largely be made possible by the advancements and widespread adoption of 5G.
At Motorola, we are setting our focus on better understanding and leveraging these trends to offer consumers with devices, experiences and customer service which sets us apart. We are committed to bringing intuitive software experiences to our consumers, while also building upon them in ways that can enhance the overall mobile experience. Motorola will continue to introduce new devices and solutions that appeal to diverse audiences, ensuring that quality, connectivity and affordability sit hand-in-hand.