Dubai, UAE, December 07, 2020 – 20 Italian start-ups are participating at GITEX Future Stars 2020 showcasing innovations in ICT, AI, Smart City, MedTech and Agritech. This year the Italian pavilion has almost doubled in size and the number of participants now stand at 20, compared to 10 companies that participated last year.
Visitors to the Italian pavilion can experience innovative technologies such as wearables for contact-tracing and social-distancing, blockchain solutions in the agricultural, food and textile sectors, Big Data solutions that understand human language and transforms it in data requests, applications for healthcare sector and advancements in Augmented Reality, Smart Farming solutions and more.
As a nation with a history of innovation and creativity led by masters such as Leonardo Da Vinci, Italians have a unique sense to match innovation with solutions that make life better, and this sensibility has extended into the technology sector, making Italy a fast-growing technology hub in Europe.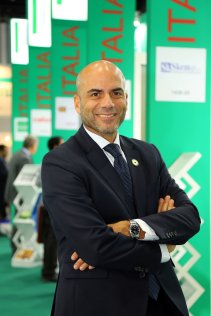 Nicola Lener, Ambassador of Italy to the United Arab Emirates, says: "Thanks also to a very advanced regulatory framework to promote the establishment and growth of new innovative enterprises with a high technological value, the number of Italian start-up companies has boomed over the years, with 11,500 start-ups registered in Italy as of July 2020. Despite these difficult times, we are therefore happy to bring to GITEX Future Stars, a number of Italian start-ups who are keen to present their innovative solutions to an inspiring ecosystem of companies, active investors, venture capitalists and visitors from over 60 countries."
According to Amedeo Scarpa, Italian Trade Commissioner to the UAE and Director of ITA: "Italy is a country with a tradition of innovation, historically supported by industries like automotive and fashion, but we also have a fast-growing tech ecosystem. With the onset of the pandemic, the importance of technology in keeping us all safe and connected with minimal disruption to work, has become more evident than ever. Italy started pursuing a strategy of digitalization when the pandemic struck, offering several rounds of stimulus for the technology sector this year. Technology is the future and, not by chance, 18% of new Italian start-ups are founded by under 35. At the Italian pavilion in GITEX Future Stars, visitors will get a true picture of the new Italian Leonardos and their creative and innovative tech solutions"
Participating companies in the Italian pavilion include: