Shiva IT Distributions (Shiva Group of Companies) is an IT business sector leader in the region with various divisions focused on distribution, trading, system integration and consulting. Based in the vibrant city of Dubai, the group began operations as a reseller almost two decades ago and since then, grew and made significant inroads across the Middle East, Turkey, Africa and CIS – Commonwealth of Independent States markets with its own niche customer base and separate divisions looking after distribution and systems integration.
Over the years, the group has entered into key partnerships with major technology vendors which helped build a strong reputation and develop a robust and best-in-class range of products and solutions that resonated strongly with customers and addressed the growing needs of an evolving market.
While the networking domain has been the key focus, Shiva Group also caters to a diverse and exclusive range of IT products, solutions and services. With an extensive reseller network and focus on value addition at every stage-from consulting, sales, marketing, channel development, implementation, support and training, the group has become renowned for world-class partnerships and customer-centric operations. In addition, its extensive expertise in the ICT sector and a growing multicultural workforce have ensured that customers always have access to world-class solutions, professional service and maximum value on their investments. Innovation is its driving force and the group is on a continuous journey to spearhead the adoption of digital technologies and help businesses across the region in their digital transformation journey.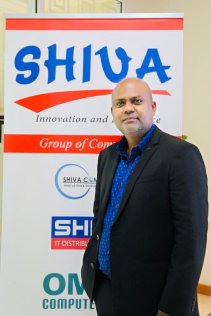 "Shiva Group is fuelled by a passion to become the partner of choice and always striving to exceed customer expectations. The pursuit of excellence has been its hallmark and the key to its long-standing success in a highly competitive market," said Syed Yusuf Maricar, General Manager at Shiva Group of Companies.
What makes Shiva Group different is its unique approach to the market. The group serves a client base of more than 500 SMB customers in its business. It has partnerships with more than 50 top technology vendors across different product lines and its systems integration group has worked on major IT projects for various government organisations as well as leading corporate entities in the private sector. Its pricing support for partners is among the best in the industry, helping the channel stay profitable and relevant. Shiva Group also has a team of engineers with global certifications in leading technologies. Winning accolades and recognition from leading global players is but natural for Shiva Group, with its uncompromising focus on excellence.
Visit the company's website www.shiva-computer.com for more details.