As part of its commitment to establish an end-to-end parent engagement platform for enhanced customer journeys, GEMS Education has launched its very own parent app.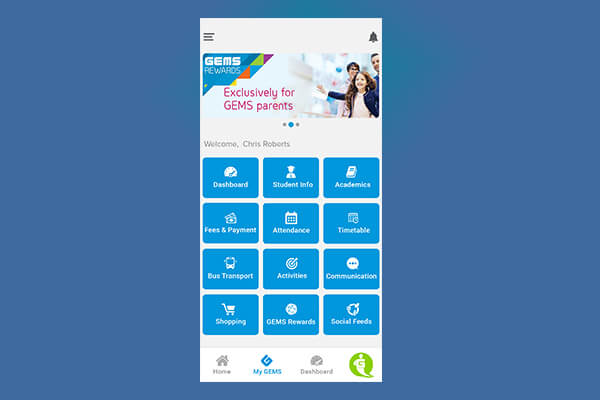 Available for Apple and Android devices, the app called GEMS Connect was designed to address the needs of the parents of existing as well as potential students. GEMS Connect eases parents' ability to interact with schools for a host of administrative services and information.
The app enables unified access to all matters related to GEMS Education schools and the wider ecosystem, such as the ability to procure products and services. It has a dashboard that provides parents with a holistic overview of all student-related information under one single umbrella.
Key features include the ability for parents to access their child's academic information, manage all kinds of payments, enrol in school activities, review attendance, receive real-time notifications to track their child's location in the school transport and communicate with schools. The app also has an AI powered chatbot – GEMS Genie, to assist parents on general and administrative queries.
Krishnan Gopi, Chief Disruption Officer, GEMS Education, said, "GEMS Connect app is a game changer in the education apps space. This app acts as a one-stop-shop for all the parental needs. Tracking your child's academics and performing multiple school related administrative activities is now at your fingertips. At GEMS Education, we are constantly innovating to ensure our customers benefit from a seamless experience. The launch of this app is only the start of our ambitious mobility journey."
Future plans include building dedicated student and teacher apps, student progress tracker across academic years, online learning and assessments, augmented / virtual reality features, education CRM, an online shop and an even smarter GEMS Genie. This app will also include gamification, with a "learning is fun" ideation by incorporating gaming elements to motivate learners