"Developing AI-based solutions is a clear direction of the UAE government, as it is the key to preparing for the requirements of the future as well as drawing our own reality of what it will look like," said Omar bin Sultan Al Olama, Minister of State for Artificial Intelligence.
The minister made these remarks during his recent visit at Dubai Silicon Oasis, DSO, the integrated free zone technology park, and met with Dr Mohammed Al Zarooni, Vice Chairman and CEO of Dubai Silicon Oasis Authority, DSOA, in the presence of Khalfan Juma Belhoul, CEO of Dubai Future Foundation, and Shahla Abdul Razak, Deputy CEO of DSOA.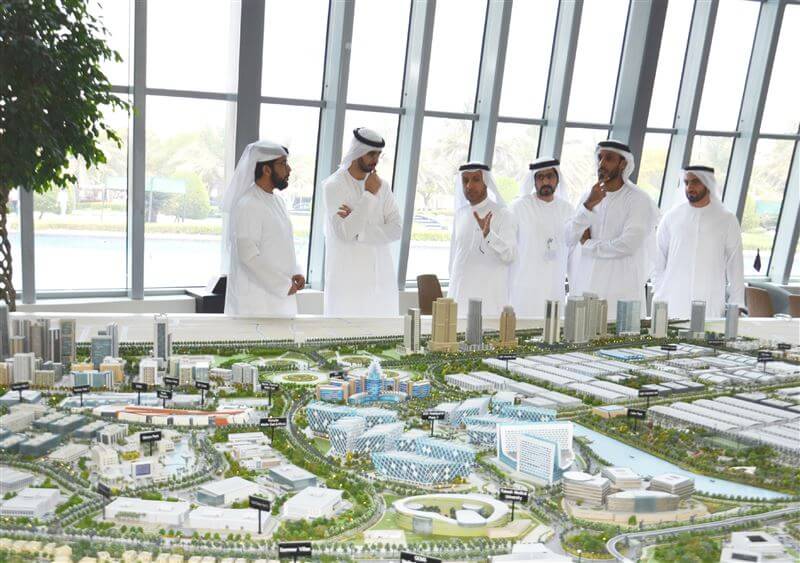 During his visit, Al Olama commended government entities and private corporations on their harmonised efforts in contributing to the status of the UAE as a pioneer in the field of innovative artificial intelligence technologies.
"Dubai Silicon Oasis plays a vital role in raising the bar for technological proficiency, thereby strengthening the UAE's credentials in emerging technology fields. Through doing so, the hi-tech park is today synonymous with quality offerings, attracting business partners and investments that have consolidated its reputation as one of the leading business hubs in the region," Al Olama added.
Al Olama also received a briefing on the diverse services available to entrepreneurs through the Dubai Technology Entrepreneur Centre, Dtec, the largest hub of its kind in the Middle East, including the Dubai Smart City Accelerator, inaugurated in 2017 by Sheikh Ahmed bin Saeed Al Maktoum, Chairman of DSOA.
The first accelerator in the MENA region to specialise in smart city technologies aims to empower startups and business professionals in developing innovative solutions that help cities become smarter. It also supports startups in leveraging knowledge within the Internet of Things, IoT, sensor technology, Big Data, and virtual reality domains to develop disruptive solutions to the world's most pressing issues.
Dr. Mohammed Al Zarooni said, "The visit of Omar Al Olama to DSO and our interaction with the team from the Ministry of Artificial Intelligence have resulted in a wealth of innovative ideas that can enable us to achieve significant performance milestones. The minister's valuable insights on the impact of the Fourth Industrial Revolution, technological advancement, and AI will help us enhance our contribution to shaping the UAE's post-oil economy."
He added, "As machine learning and robotics become all-pervasive, DSOA is committed to supporting the talent of our young generation through supporting emerging technology projects and equipping budding entrepreneurs with the right tools to build skill sets that remain relevant for years to come."
The visit also included a presentation on Silicon Park, the first integrated smart city project taking shape at DSO, as well as DSOA's success in attracting multi-national technology companies and foreign investment.
For more stories on success and business transformation through technology subscribe to our newsletter. You can also follow us on Twitter and LinkedIn, like us on Facebook to get daily updates on the latest tech news.