The Dubai Health Authority (DHA) in partnership with Mediclinic, Mercuris and Immensa Technology Labs, helped an Emirati double amputee recently became the first to receive 3D printed transtibial prosthetics.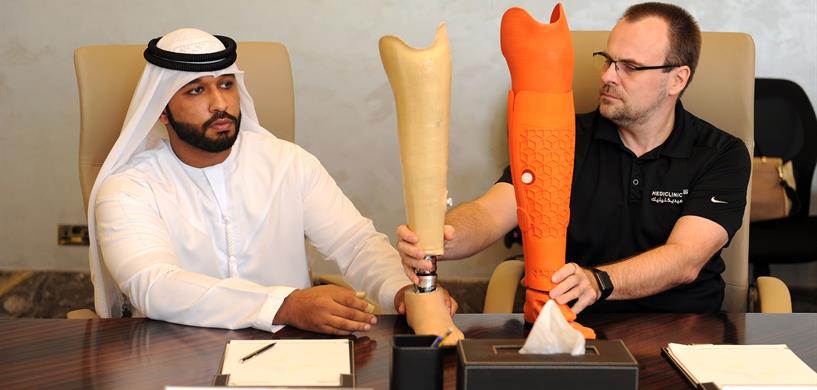 According to the DHA, its department of humanitarian services fully supported and funded the initiative.
Fahad Mohammed Ali, a 25-year old UAE national and a Paralympic champion was able to walk with the maximum feeling of anatomical function due to his 3D prosthetics.
"For the past 15 years I have been using regular prosthetics until I received the 3D prosthetics," said Ali. "My life has been transformed for the better, the 3D prosthetics make me feel like I got my legs back and it is simply incredible. I am very thankful to the leaders of the UAE and the DHA."
Humaid Al Qutami, Director-General of the Dubai Health Authority, said, "In line with the vision of His Mohammed bin Rashid Al Maktoum, Vice President and Prime Minister of the UAE and Ruler of Dubai, the DHA has prioritised fostering the development of future technologies such as 3D printing in healthcare to provide high-quality patient-centric care.
"We are keen to use this technology in the health sector to improve efficiencies, enhance healthcare management, improve overall workflows and most importantly further improve patient care. This is truly heartening as it is an example of how healthcare technology directly improves the patient's quality of life. We aim to continue harnessing manpower, collaborating and investing in future health technologies to serve our community."
Dr Mohammad Al Redha, the Director of the Executive Office for Organisational Transformation at DHA, said, "This is a unique collaboration that allows us to see the most modern technology develop and become a reality. Our aim at the DHA is to provide patients with the best possible care and thus we are happy to bring together international and local stakeholders to work jointly on future technologies. The work we have done so far is part of the foundation of future 3D printing research and development work in the UAE.
With more than 25 years of experience in the field, Sebastian Giede, Certified Orthopaedic Prosthetist with Mediclinic, said, "The potential of 3D printing in the field of prosthetic devices is huge. It allows for faster turnaround times, we can get a foot customized within two to three weeks, it provides more personalisation in terms of both design and functionality, as well as great flexibility when it comes to replacement. The functionality of 3D printed prosthetics is superior as it allows us to design completely individualised models as compared to mass manufactured prosthetics."
In terms of the process of designing the 3D prosthetics, Giede, said, "We conducted several 3D scans of the patient's amputated legs. After that, we used a CAD software program to design and modify the inner shape of the prosthesis. Then the test socket was 3D printed so that we could use it on the patient to control the size and make changes that will help provide the patient with maximum comfort and functional alignment."
A Dubai-based company known as Immensa Technology Labs provided the test socket and final socket, which is about 40 per cent of the 3D prosthetics.
The rest of the 3D prosthetics were provided by Mecuris, which is a company based in Germany that combines existing industrial 3D technologies like 3D scanning, 3D data processing and 3D printing into an innovative process of digital tailoring for orthopaedics.
Giede constructed the prosthetics in Dubai, he said, "We are proud that we were able to provide Fahad with 100 per cent customized 3D printed prosthetics that provides a natural feeling of anatomical movement to the maximum extent possible."
This is the second time the DHA has collaborated with Mediclinic and Mecuris for 3D prosthetics. In 2017, the Authority and Informa Life Sciences collaborated with them and with Prosfit to provide a Dubai resident with a 3D prosthesis.