Dubai aims to utilise artificial intelligence (AI) to help volunteers identify patients' emergency cases and guide them through the necessary procedures to help save their lives while waiting for the ambulance, thus transforming every resident into a potential lifesaver.
The Dubai Corporation for Ambulance Services (DCAS), in partnership with the Dubai Future Foundation, has recently launched the 'Immediate Response' project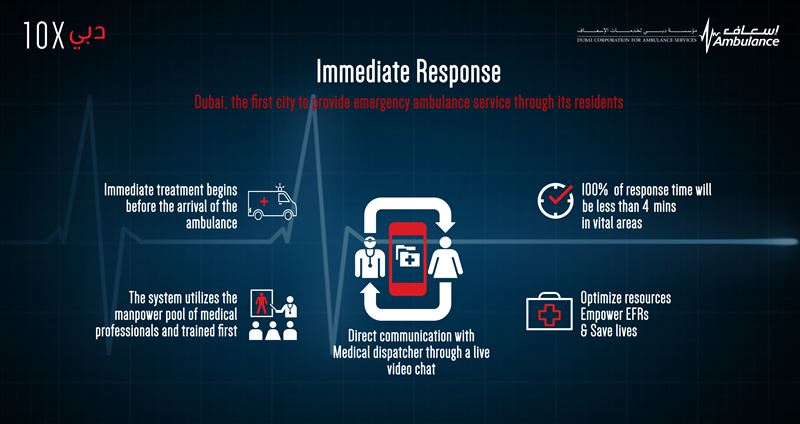 under the umbrella of the 'Dubai 10X' initiative.
"We endeavour through this project to transform every resident and visitor in Dubai into a versed lifesaver to enhance the quality of ambulance services by speeding up the response time to less than four minutes. The project is part of our efforts to implement our strategy and contribute to the realisation of the Dubai Plan 2021 while ensuring a healthy and safe environment for Expo 2020 visitors, and improving the National Emergency Response Index to four minutes," said His Excellency Khalifa Al Drai, Executive Director of the DCAS.
The project employs the capacity of AI to process Big Data to analyse patients' health and predict their medical case, providing community members with appropriate treatment guidance. The volunteers will get additional support through a video call option with the medical team.
"Reducing response time is one of the challenges faced by ambulance services globally. A response time of four minutes has never been achieved by any ambulance service. However, through this innovative project, DCAS will be able to provide immediate help in vital areas in Dubai, surpassing the initial target of four minutes by integrating savers from the community and utilising smart systems based on AI and VR to harness residents' skills," added Al Drai.
"The project will have a direct impact on our community and its future, given that 80% of minor cases take place in public buildings, and the Corporation responded to around 180,000 cases in 2017. Through our innovative service, we aim to instill a sense of belonging among residents, increasing happiness levels and saving lives", he added.
"We are currently implementing the regulatory framework for the project, and selecting the right tools to overcome any challenges. As a first step, we will be launching a prototype that will allow us to further examine and enhance our service until its official launch. The Corporation will need around 24 months to implement the project in coordination with our partners, including Dubai Police, Community Development Authority, Dubai Health Authority, Telecom Regulatory Authority, Federal Authority for Identity and Citizenship, health insurance companies and application developers," Al Drai said.
He then noted that the project will transform ambulance and healthcare services in an unprecedented way, taking advantage of current challenges – which include cultural diversity and residents' density in Dubai that make it hard to identify exact locations, as well as low awareness levels of first aid services in cases that require emergency interference – and turning them into an opportunity to develop and advance medical and healthcare services in Dubai.