The Dubai Diabetes Centre (DDC), the emirate's only dedicated multidisciplinary diabetes centre, will undergo expansion services to enhance its capacity and cater to a larger number of patients.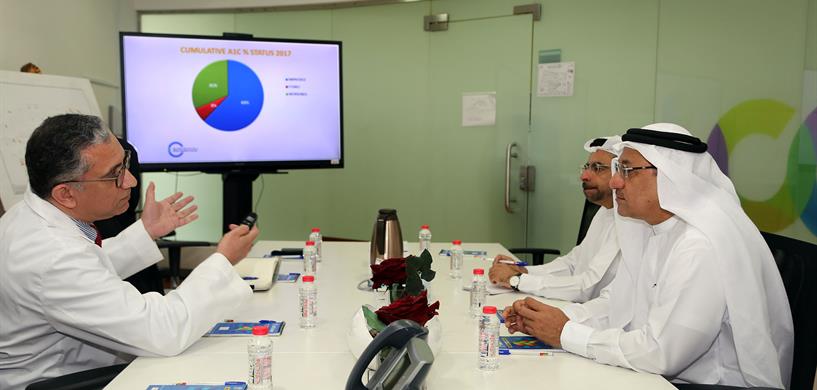 The estimated number of people with diabetes in 2015 was 415 million and in 2040, it can reach up to 642 million. In the UAE, it is estimated one in five people are diabetic and another one in five are pre-diabetic.
In 2017, the centre treated nearly a thousand new patients. In terms of total patient visits with all the different providers at the centre, including consultant endocrinologists, nurse educators, dietitians, podiatrists, exercise specialists, psychologist, and retinal imaging specialists, the number exceeded 38, 000 visits.
[To learn more about how artificial intelligence is transforming industries, register for TahawulTech.com's Power of 4: Fourth Industrial Revolution Forum | For more stories on success and business transformation through technology subscribe to our newsletter. ]
Humaid Al Qutami, Director-General of the DHA conducted an inspectional tour of the centre and was provided with a detailed overview of the recent achievements and further expansion plans of the centre.
During the visit, Dr Ahmed Bin Kalban, CEO of Specialised Healthcare Services Sector at the DHA highlighted the importance of expanding the DDC's facilities.  "Due to the continuous addition of patients, the number of existing patients has gone up considerably causing a delay in getting new patient appointments. Expanding existing facilities will allow us to treat a higher number of new patients and help us provide the usual level of care at the same time."
The Centre will soon begin an obesity clinic to help patients struggling with obesity with realistic and effective ways to lose weight and to maintain that weight loss as well.
The multidisciplinary team will include: Endocrinologists, Dietitians, Nurse educators, Exercise physiologists, and Behavioral therapists (Psychologists).
Dr M. Hamed Farooqi, Director of the Dubai Diabetes Centre, also announced that the centre recently completed a proof of concept project for the implementation of Artificial Intelligence (AI) to detect diabetic retinopathy.
"Use of AI in detection of diabetic retinopathy can revolutionise the manner in which we screen patients for retinopathy. It will be cost effective, will provide high-quality care and will lead to better utilisation of resources. Ophthalmologists will only need to see retinal images of patients with retinopathy that the system detects as opposed to the current system where they need to screen all patients."
Dr Farooqi said that for a highly prevalent disease like diabetes, the benefits are simply multi-fold. "As per international diabetes standards, we need to have 14 retinal images per diabetic. The estimated number of diagnosed diabetics in the UAE exceeds 1 million. To interpret 14 million images per year, we need more than 50 eye specialists working full-time. Deep learning system (DLS) using AI are capable of identifying diabetic retinopathy and related eye diseases using retinal images with a high degree of accuracy. Thus using AI can not only help provide retinopathy screening for a large number of diabetics but also lead to better utilisation of resources and time of ophthalmologists."
Furthermore, the DDC is also conducting research on the use of tele-monitoring technology for diabetic patients.
The study aims to investigate the effective use of tele-monitoring technology in patients who don't turn up for follow-up visits and as a result have poor diabetic control. These patients then lead to a significant burden on the health system as an outcome of the resulting complications.
Dr Farooqi said, "The primary objective of this study is to investigate the use of tele monitoring devices (such as those for blood glucose, blood pressure, weight, pulse oximetry, pulse and ECG, spirometry and point of care labs etc.) to gather the  relevant data in patients with type 2 diabetes and use mobile-phone applications designed to promote better patient compliance in such patients.
"The other objective is to evaluate the patient electronic health record database of the Centre using AI and DML to identify, if possible, the trends or linkages that would lead to better predictive modeling of those patients that are more likely to be lost to follow-up. Through the use of technology we aim to empower patients and improve patient care," he added.
Follow us on Twitter and LinkedIn, like us on Facebook to get daily updates on the latest tech news.