The Dubai Health Authority (DHA) has launched smart homecare technologies that would allow the homecare team to contact doctors via smart applications and devices for instant consultation, WAM reported.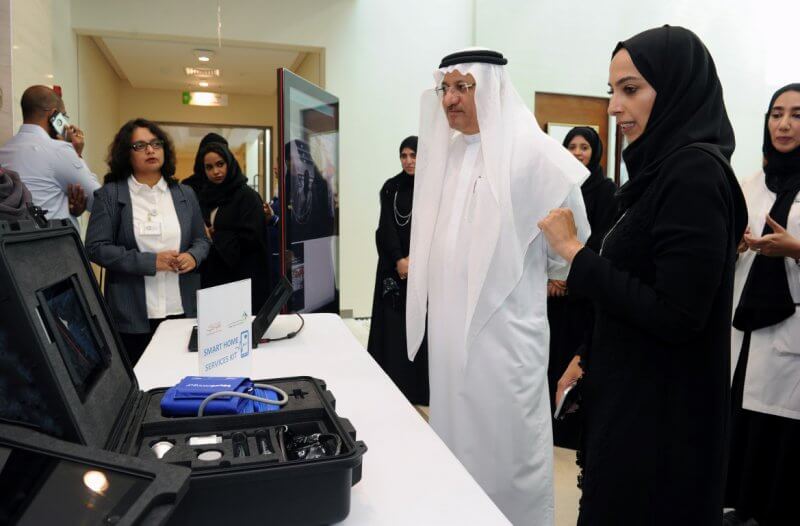 These smart technologies also include wireless devices that are directly linked to DHA's electronic health record system "SALAMA", ensuring that patient records are updated in real-time during home visits via a secure web server.
The wireless devices include non-contact thermometers, auto-arm blood pressure monitor, 4G router, smart tablet, pulse oximeter, connected pocket electrocardiogram, blood glucose monitor, wireless stethoscope and a digital scope system.
According to Humaid Al Qutami, Director-General of the DHA, incorporating smart technologies in healthcare is an important priority as it enhances patient care, ensures better follow up and empowers patients.
He also added that the smart homecare services will reduce waiting time, incidences of complication and guarantee the timely availability of services, which is in line with the authority's goals of achieving a healthier and happier society.
Dr. Manal Taryam, CEO of DHA's Primary Health Care Sector, explained that prior to the introduction of these smart technologies, nurses wrote all the results of a patient's examination on paper.
"Electronically linking the devices to Salama ensures the accuracy of data and allows healthcare specialists to keep track of patients' overall health condition and routine health consultation or assessment from the comfort of their homes instead of having to make tiresome and tedious visits to healthcare facilities," she noted.
She added that nurses can also directly contact the doctor via a smart tablet for providing live feedback and support to the homecare team.
"So far 1,372 patients benefitted from homecare services. With the introduction of the smart technologies this number is expected to increase by 50 per cent increasing efficiency of the services provided and reducing the waiting time for getting a specialist consultation from two weeks to instant real-time consultation," Dr Taryam said.
She noted that the Smart Homecare project is the first of its kind in the MENA Region to utilise wearables and IoT Devices to address the needs of the geriatric and bedridden patients. The Smart Homecare project bridges this gap between the healthcare service delivery and patient needs.
"It serves as a uniform solution that can be used under various homecare scenarios and settings," she said. "Directly linking the devices to Salama also ensures compliance to documentation, well-coordinated care, which is critically important for patients who see multiple clinicians through the computer integrated medical devices."