GE Healthcare is showcasing the latest in its advanced portfolio of products and solutions at Arab Health 2019, the region's leading healthcare exhibition to be held from January 28 to 31, at the Dubai World Trade Center.
Elie Chaillot, President & CEO of GE Healthcare, Eastern Growth Markets, said, "From digital solutions to advanced diagnostic equipment, our solutions presented at Arab Health 2019 are designed to meet the needs of healthcare providers. With the region focusing on transforming the healthcare sector by investing in modern technology, our portfolio is ideally suited to achieve better patient outcomes."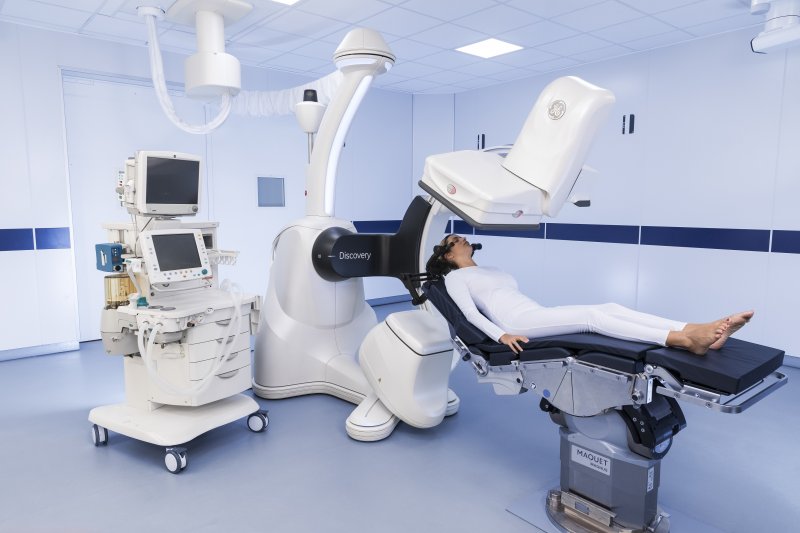 Interventional Solutions
At Arab Health 2019, GE Healthcare is presenting a multi-disciplinary Discovery IGS 7 OR for neuro, spine and orthopaedic surgeons and Liver ASSIST V.I. These interventional solutions address key clinical challenges and will introduce a new wave of patients to the benefits of minimally-invasive therapies, which includes the potential for reduced risk, pain and recovery time.
Since the introduction of Hybrid Operating Rooms, cardiovascular surgeons have benefited the most from the surgical suite's advanced imaging capabilities. GE Healthcare's Discovery IGS 7 OR with ASSIST solutions are designed to allow a new wave of clinicians and patients to benefit from high quality intra-operative 3D imaging and guidance, and complete workspace freedom without compromising sterility or disrupting workflow.
Liver ASSIST V.I. is a new software that equips clinicians with a dynamic simulation tool, so they can plan their injection points in complex, minimally-invasive liver embolization procedures.
New technology in PET/CT and SPECT/CT
In PET/CT, MotionFree offers the first-ever digital respiratory motion management solution that does not require a gating device. The digital solution seamlessly integrates with existing workflows for every patient to actively monitor respiratory motion in the background of every PET/CT procedure, clear away motion artifacts from every image, and provide real-time respiratory analysis.
In Nuclear Medicine, the new 800 Series includes NM 830, NM/CT 850, NM/CT 860, NM/CT 870 DR, and NM/CT 870 CZT.  All five systems are designed to help clinicians achieve exceptional outcomes. The 800 Series offers scalability for both CT and SPECT subsystems, allowing customers to choose the CT capability that best fits their practice and the option to upgrade to digital SPECT. In addition, Xeleris 4 DR, now with Q.Volumetrix MI, provides clinicians with effortless absolute quantitation of tracer uptake to determine how a lesion absorbs the tracer, enabling more confident diagnosis and treatment monitoring.
Next generation of Intelligent CT Scanners and digital tools
GE Healthcare brings a new family of Revolution CT systems now enabled with Smart Subscription, a service which provides access to all the latest CT device software, all the time, for one fee per device per year. Smart Subscription encourages operational excellence with easy, real-time access to the latest CT capabilities. The Revolution Frontier Gen 2 provides oncology imaging solutions to improve diagnosis and treatment, including SmartView 3D, an application offering real-time, in plane needle tracking and GSI to more accurately see lesions and identify where to biopsy.
Magnetic Resonance
GE Healthcare is elevating radiology by showcasing a comprehensive portfolio of SIGNA MR systems and digital solutions to enable clinicians to provide a personalized, productive, quantitative and comfortable experience for their patients. AIRx is an AI-based, automated workflow tool for brain scanning is designed to increase consistency and productivity. AIRx, an application built on Edison, is designed to provide automated slice prescriptions to help reduce previously redundant, manual steps.
AIR Touch is an intelligent patient recognition software works with AIR Technology coils to help optimize every scan. There is variability from technologist to technologist and patient to patient; AIR Touch connects the coil to the system to automatically tell the scanner exactly where the patient is with just one touch.
Digital Solutions
GE Healthcare also showcasing a portfolio of digital healthcare solutions that connect machines, people and data to help solve our customers' most pressing operational and clinical challenges.
Today, radiologists waste an estimated 19 percent of their time having to use multiple systems. To address this challenge, radiologists are using new generations of picture archiving and communications systems (PACS) such as GE Healthcare's Centricity Universal Viewer, which has been shown to increase the efficiency of some reading tasks by up to 40-50 percent at imaging centers around the world.
Centricity Universal Viewer supports native breast imaging. With a single, unified reading environment, it allows the inclusion of almost all modalities in screening or diagnosis workflows including CT, MRI and Tomosynthesis, as well as other patient reports such as clinical notes and pathology reports.
Centricity Clinical Archive is a Vendor Neutral Archive solution that provides a holistic patient imaging and multi-media patient record to help improve clinician productivity and patient outcomes by image enabling your EMR. Centricity Clinical Archive Analytics is the brain which powers the Centricity™ Clinical Archive solution. It derives intelligence from stored data to provide actionable insights, enabling augmented clinical, financial, and operational decision making.
GE Healthcare will also show the progress of its Stroke Management Suite, which is being developed with Partners Healthcare. It now includes machine learning models that analyze MR and CT images for ischemic and hemorrhagic stokes.
Surgery
Following the release of a completely refreshed portfolio of OEC mobile C-arms, GE Healthcare continues to advance surgical imaging with a new suite of intuitive and powerful applications.
For the first time, GE Healthcare is bringing the power of real-time zoom to surgery suites with OEC Elite CFD's new Live Zoom feature. Live Zoom enables clinicians to focus in on critical details by easily zooming up to four times on a live image as well as taking additional fluoro shots or Cine runs with no change in X-ray technique. Additionally, the new General HD imaging profile for OEC Elite CFD enhances visualization for clinicians performing catheter insertion procedures.