More than 50 percent of potential GITEX Shopper 2018 visitors are planning to buy a new smartphone, according to a recent survey.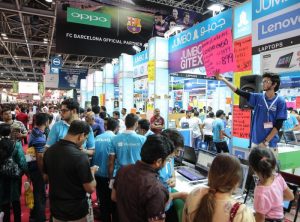 Smartphones were the most bought electronic item last year and it continues to remain the most favourite this year as well, the latest study conducted by research agency Kantar revealed.
As per the findings of the study, this year consumers are interested in purchasing electronic items of personal use, such as laptops, tablets and smartwatches etc., besides smartphones. Moreover, a majority of respondents are willing to invest in two products on average, a pattern similar to last year.
In all, 87 percent respondents are serious buyers with the intention to purchase a product at the exhibition. The study further revealed that three-fourth of the respondents who had visited the exhibition in 2017 plan to return this year, reflecting a high number of repeat visitors.
In addition, the survey also noted that out of the 70 percent respondents who visited GITEX expo last year, three-fourth plan to return.
Amol Ghate, MD Kantar Insights UAE, said, "Over the years GITEX has become a strong brand in its own right. Like past years, even this year consumers are looking forward to GITEX and despite having a more cautious spending outlook otherwise, are still looking forward to spending similar amounts of money during the fest as they did last year. This shows that a great product mix and the excitement of catching a good bargain will always continue to excite consumers".