Technology adoption is powering the shift in retail and the UAE is at the forefront of taking significant strides towards embracing innovations shaping the future, experts noted during the ongoing Smart Stores Expo.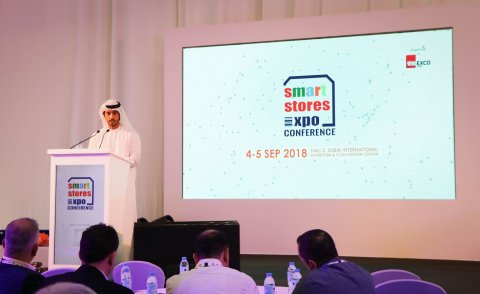 Juma Mohamed Al Kait, Assistant Undersecretary for Foreign Trade Affairs of the UAE Ministry of Economy graced the opening and delivered the keynote address at the conference.  In his speech, Al Kait acknowledged that retail has been an important contributor to UAE's economy and will continue to play a pivotal role in the country's development.
The conference featured insightful industry presentations and forward-thinking tactics on how to future-proof your retail business.  Drawing key interest were talks on Smart Retail Landscape in the Middle East, The Future Of Shopping Centers, and Digital Transformation in Retail with AI Technology.
On showcase are innovative concepts spanning the Build, Manage and Operate categories.  From talking robots to smart mirrors to the latest in RFID technology, Smart Stores Expo exhibitors have something new to draw crowds.  A new feature in this year's event is the Retail Leasing, which offers upcoming retail real estate projects for top brands to open shop.
"We are pleased to see such enthusiasm from the retail community to innovate and gear up for the future. Harnessing technology to deliver a new shopping experience and grow your business is a key imperative for retailers to find new customers and to hold existing ones.  It is critical for every player in the industry to move forward with new innovations and I can honestly say that Smart Stores Expo is world class in every respect when it comes to resources driving the future of shopping," stated, Jayaraman Nair, Chairman of VIS Exhibition, organisers of the event.
Smart Stores Expo 2018 is at Hall 3 of the Dubai International Exhibition And Convention Center, and will conclude on Thursday, 6th September.
The show saw top retailers from leading brands visiting to get a feel of what Smart Stores has to offer.  Among them are representatives from Union Coop, Al Tayer, Landmark and Majid Al Futtaim.