GITEX Technology Week's 39th edition is set to spotlight the region's biggest-ever 5G showcase and feature top insights around AI, robotics and next-generation immersive technology, all encompassed under the movement of 'Synergising the Mind and Technology Economy'.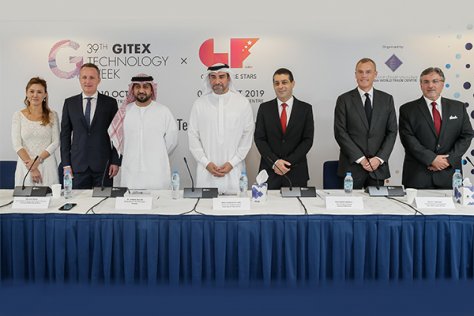 In addition, the region's renowned investor-startup gathering, GITEX Future Stars, will be back for its fourth edition.
During the five-day tech show, over 100,000+ tech experts will present and share their industry know-how across multiple halls that are divided into sectors including 5G, Artificial Intelligence, Future Mobility, and GITEX Lifestyle Tech and Smart Cities, which will be the definitive venue for insight into the smart government of the future.
Saudi Arabia is the official country partner for GITEX 2019, and will be represented by its smart logistics platform Fasah.
Trixie LohMirmand, senior vice president, Events Management, Dubai World Trade Centre, organisers of GITEX, said, "Technologies, no matter how revolutionary they may be, offer no value to us unless they can create experiences to augment the well-being of individuals and larger society. GITEX continues to be the definitive platform where enterprises, startups and government entities come together, striving to engage the global technology community to harness the limitless ingenuity of humans and the power of technology to ensure meaningful benefits and impacts on society through intelligent discourse."
Nearly a decade in the making, 5G is finally becoming a reality and is set to transform the Middle East's economy. It represents a major breakthrough that will change the way that devices connect to the internet, and to each other. The Middle East and Africa region is set to be at the centre of the 5G revolution, with 30 million 5G mobile subscriptions expected in the region by 2024, and all six GCC countries expected to launch 5G mobile services in the next two years, with the UAE aiming to deploy 5G by 2020.
GITEX's 5G Countdown conference agenda will explore how 5G will revolutionise Industry 4.0, smart cities and autonomous vehicles, as well as getting to the bottom of 5G security concerns.
The event is set to feature a key presence from 5G heavyweights that are already in the process of transforming the world's connectivity.
In the Middle East, UAE-based telco Etisalat is already making headway in deploying 5G and seeks to use GITEX to exhibit some of the most compelling use cases for the technology.
"5G is the major focus this year with a showcase of digital transformation and innovation expected across industry verticals like transportation, retail, healthcare, manufacturing, aviation and oil and gas. This is in line with the UAE's Vision 2021 and Etisalat's strategy 'Driving the Digital Future to Empower Societies'. At GITEX this year, we will showcase 5G-powered solutions for the first time globally, as it's the perfect platform to inspire the visitors and customers to experience the immense potential of future revolutions and technologies," said Dr Ahmed Bin Ali, Group Senior Vice President, Etisalat.
At the show, global technology firms including Huawei, Siemens and Ericsson, will showcase their own innovations and initiatives in 5G.
Meanwhile, GITEX Future Stars will feature over 750 local and international startups and corporate accelerators from more than 80 countries, and more than 1,500 investors and corporate buyers, as well as an all-new presence from countries including Austria, Brazil and Italy.
GITEX Future Stars will  see The Government of Abu Dhabi looking to make its mark on the event, with the Emirate's hottest innovation prospects, including Hub71, Abu Dhabi Global Market (ADGM), StartAD, Krypto Labs, Department of Health Abu Dhabi, all aiming to put Abu Dhabi on the map as an innovation hub of the future.
The event will also feature a Saudi Innovation Day, which will include a panel discussion highlighting the country's key startup ecosystem builders and their initiatives to provide access to market, government entities, capital, talent and networks in order to create an impactful Saudi startup ecosystem. The panel discussion on the Kingdom's startup prospects will feature Dr. Ahmed Al Theneyan, Deputy Minister, Saudi Ministry of Communications and Information Technology, Nawaf Al Sahhaf, CEO, BADIR, Dr. Nabeel Koshak of Saudi Venture Capital Company and Othman Dahash Aldahash, Vice President, Corporate Development, STC Group.
GITEX Technology Week will be held at the Dubai World Trade Centre from 6th to 10th October. Other segments that will be highlighted at the show include the GITEX Artificial Intelligence Zone as well as the all-new sections on Lifestyle Tech and Future Mobility.